[Originally written for and published by lovePROPERTY.com]
Meet the social media star flipping houses for profit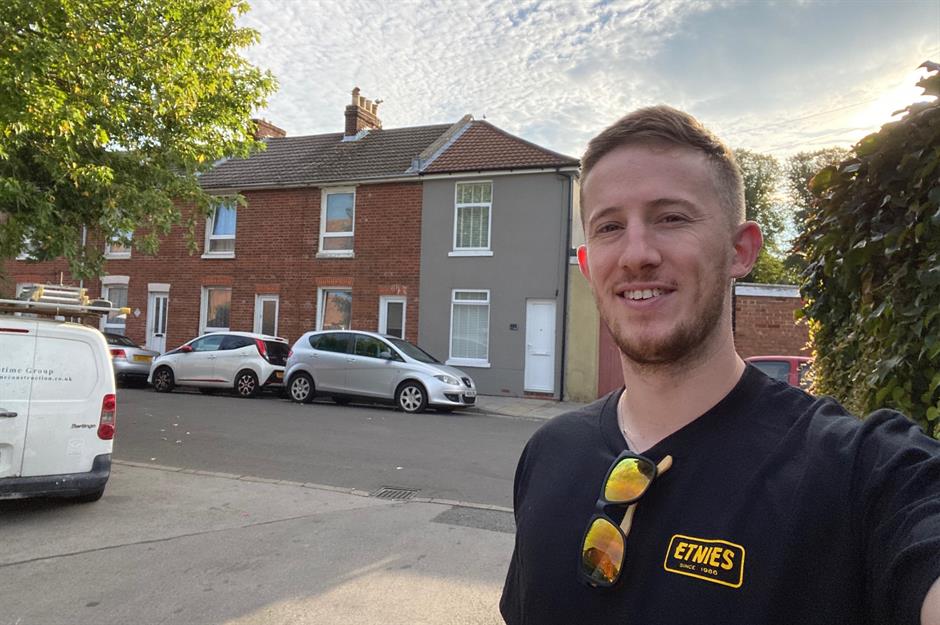 Kyle Mattison / That Property Guy
Kyle Mattison was just 24 years old when he bought his first property. Six years later, he's known across social media platforms as That Property Guy, as he's since acquired another four homes – and made a fortune in the process. The most impressive part? Kyle had no idea what he was doing when he started out. Click or scroll through to follow Kyle's incredible journey and to pick up property flipping tips that have got him to where he is today…
Saving from a young age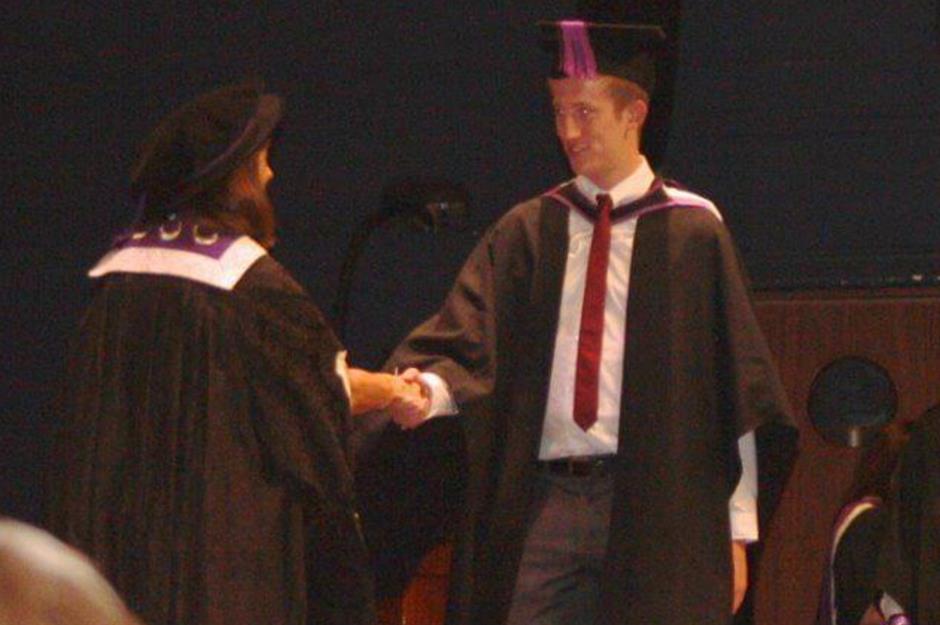 Kyle Mattison / That Property Guy
Kyle had always had his sights set on buying a property after years of watching house makeover shows like Homes Under the Hammer. He'd worked two jobs as a 16-year-old and was well into the habit of saving by the time he left school. Kyle studied at the University of Portsmouth, not knowing that both the city and his course – a degree in marketing – would play a big part in building his future property empire.
Looking further afield
Vittorio Caramazza / Shutterstock
Kyle started out viewing properties in south London where he'd grown up, but it quickly became clear that his £15,000-worth ($20.5k) of savings and graduate salary wouldn't make the cut in the capital. Mortgage brokers and estate agents asked if Kyle had thought about leaving London and moving somewhere where his cash would stretch a lot further. Kyle settled on the maritime city of Portsmouth, where he knew he'd get a lot more bang for his buck.
The perfect first pad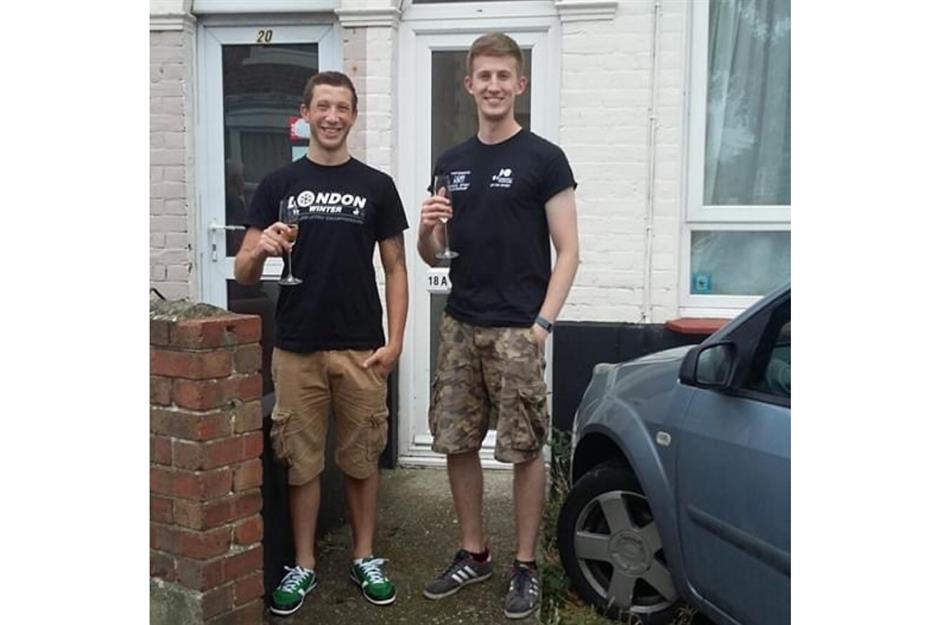 Kyle Mattison / That Property Guy
After scouring property portals every day, Kyle settled on a two-bed flat as his first purchase. He completed the sale in 2016 for £120,000 ($164k), and friend Danny (pictured left) moved in as a lodger. Kyle didn't want his first property to be a big renovation job: "It was purely somewhere to get on the ladder. I just wanted to try and make it my own and improve it a little bit."
Quick fixes and quick wins
Kyle Mattison / That Property Guy Kyle made small tweaks to the bathroom, such as replacing the well-used shower curtain. Changing up the kitchen was also on the to-do list, and Kyle opted to paint over the green interiors that had been added by previous owners. Other adjustments Kyle made to the flat included cleaning the carpets and touching up chipped paint – tasks that Kyle described as quick fixes and quick wins.
A flipping big profit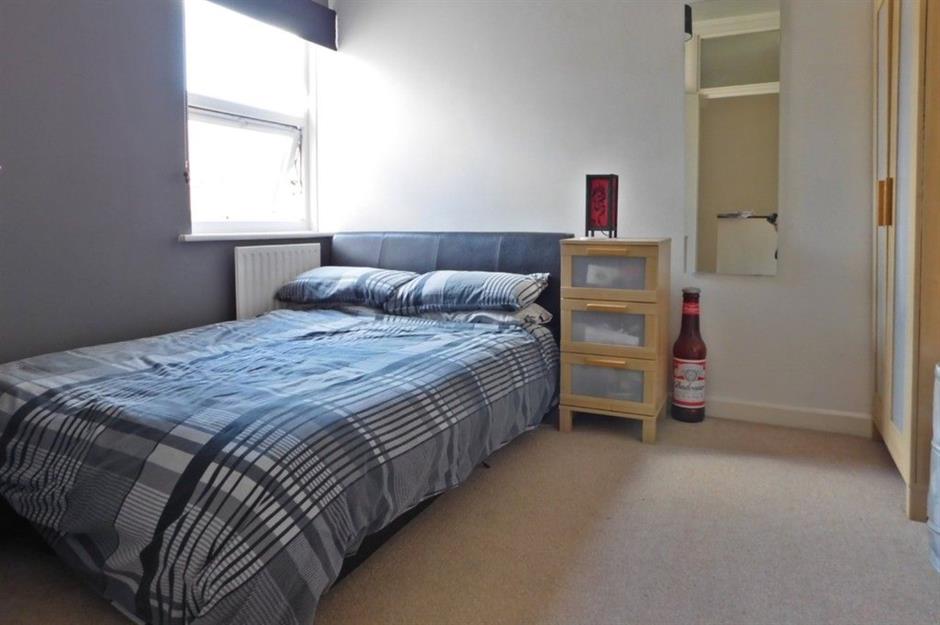 Kyle Mattison / That Property Guy
Making minimal changes to the flat contributed to Kyle's first property flip being more lucrative than he had expected. He sold the flat in 2017 for £134,000 ($183k) – £14,000 ($19k) more than he'd originally paid. But according to Kyle, in his opinion, the cost of alterations and the selling price aren't the key drivers in how much money you make on flipping a property: "You make money on a house when you buy it rather than when you sell. It's all about getting a good price at the start."
Second purchase: a three-bed terrace house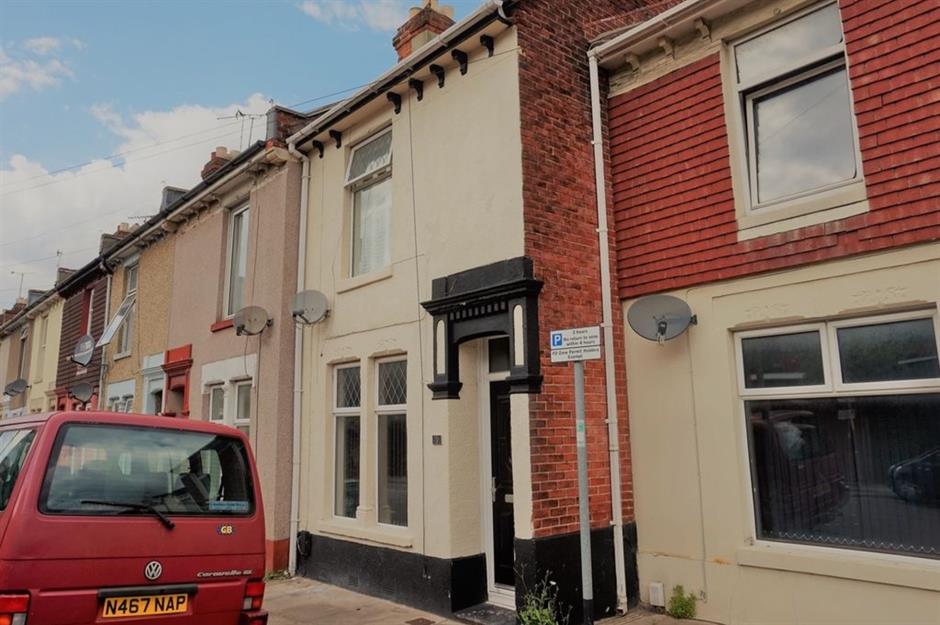 Kyle Mattison / That Property Guy
Having made a tidy profit on his first property, Kyle decided to move onto a more challenging renovation project. Opting to stay in his new home city of Portsmouth, Kyle's next purchase was a three-bedroom house, which he snapped up for £160,000 ($219k) in 2017.
Stripping the floors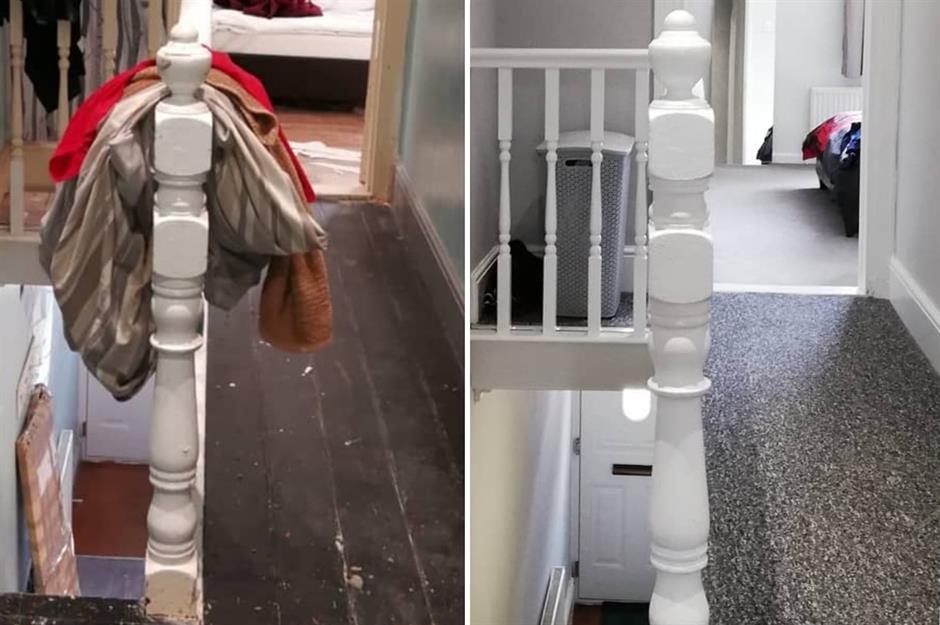 Kyle Mattison / That Property Guy
Kyle was keen to do a lot of the renovations himself. The kitchen was in good condition, and so just needed touching up with a lick of paint, and Kyle ripped up all of the old, peeling laminate flooring ready for professionals to come in and finish the job. New carpets were then installed on the stairs and hallway.
A sparkling new bathroom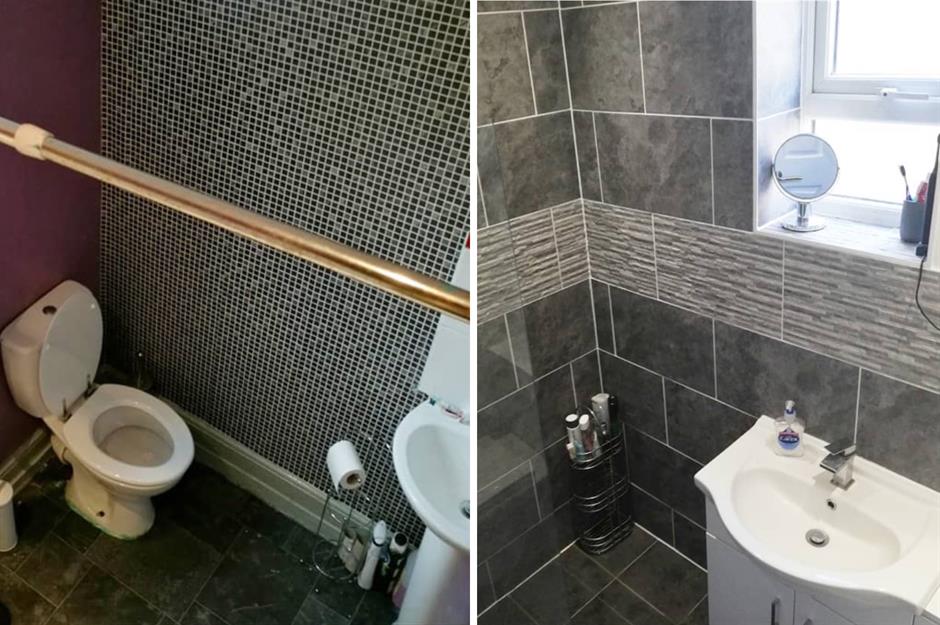 Kyle Mattison / That Property Guy Another job left to the experts was the installation of a brand new walk-in wetroom. It replaced the tatty sink and leaky toilet that had made up the upstairs bathroom before Kyle moved in.
Pro tip: always get at least three quotes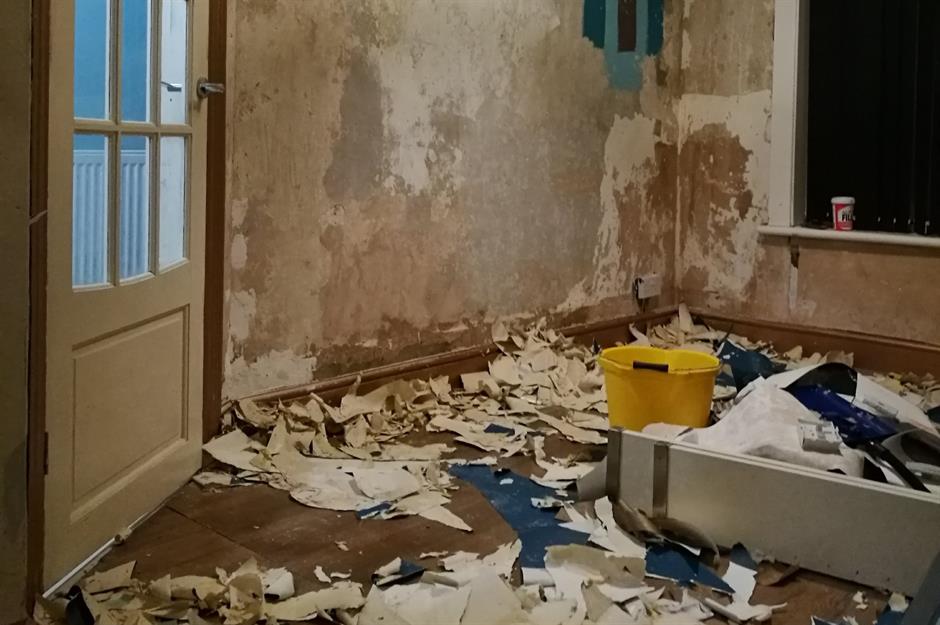 Kyle Mattison / That Property Guy When it came to outsourcing work, such as plastering, Kyle took his time in choosing who would do the job. "Always always get three quotes. Also ask for an itemised breakdown of where that money is going. A lot of tradespeople will give you a lump sum for the whole job, but ask how much expected materials will cost and expected labour. Getting three quotes and a proper breakdown should limit your risk and help you to get a fair price."
Soaring value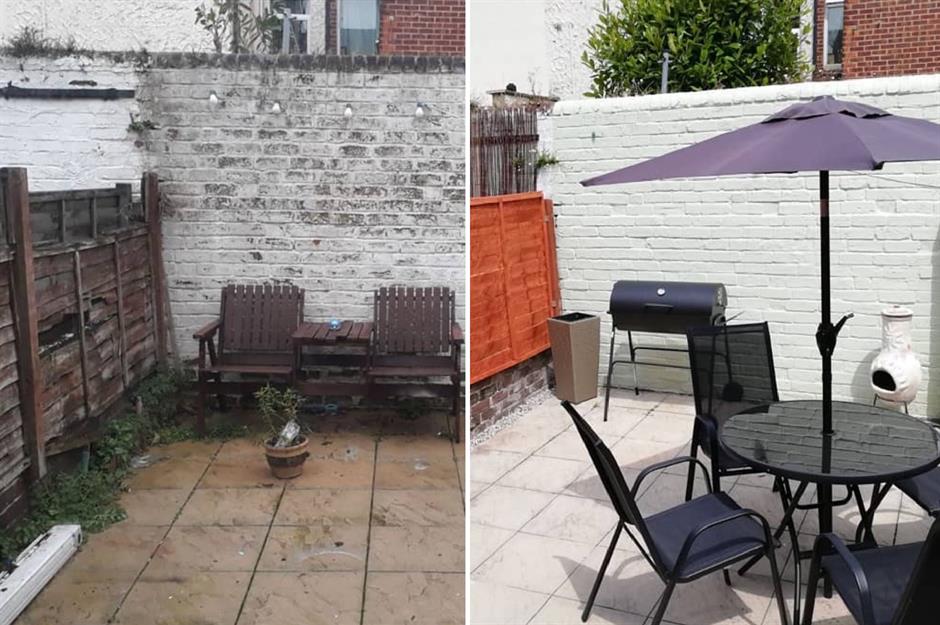 Kyle Mattison / That Property Guy
Investing in good quality renovations and putting in the work himself where he could, such as in doing up the garden, clearly paid off, as Kyle's £160,000 ($219k) house skyrocketed to a value of £195,000 ($267k) within two years. And its value continues to climb – in the most recent valuation, the three-bed property was given an estimated value of £225,000 ($307k). Kyle has kept hold of the property and leases it out to tenants, giving himself a steady stream of income that helps to finance the rest of his property projects.
Third purchase: a one-bed flat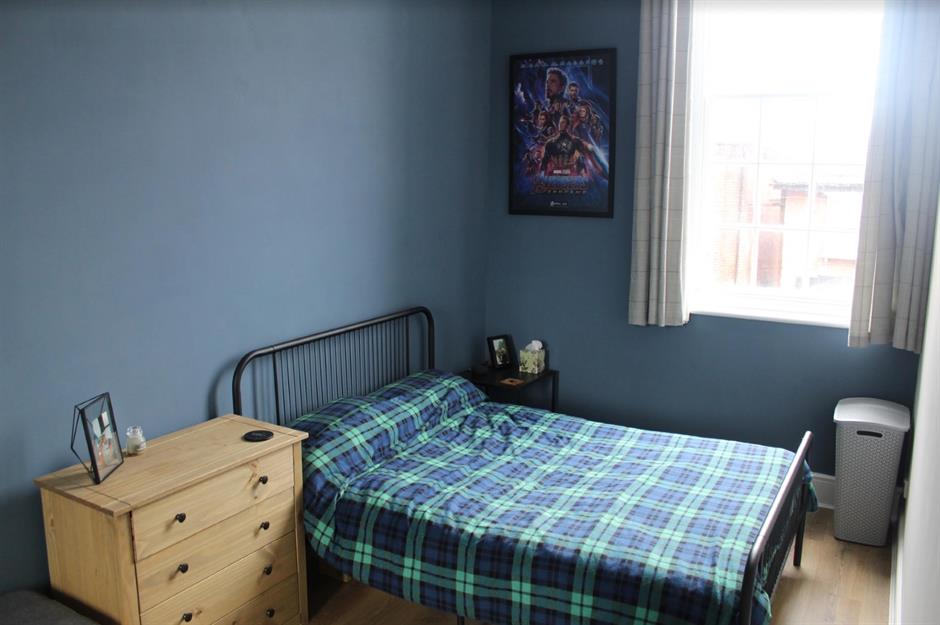 Kyle Mattison / That Property Guy
In 2019 Kyle reinvested his profits into a £95,000 ($130k) one-bed flat. By property number three, Kyle had spent enough time watching professionals to give more of the renovation work a go himself. He ripped up all of the old flooring to replace it with brand new laminate, and decided to take on his most challenging DIY project…
The sash window saga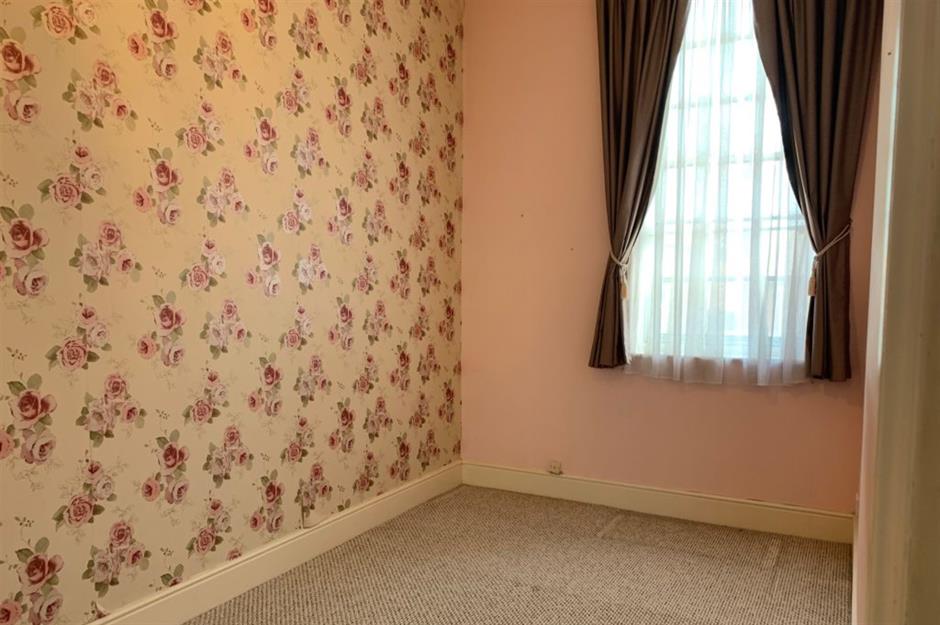 Kyle Mattison / That Property Guy Estate agents had been quick to point out that the sash windows in Kyle's flat were in desperate need of repair. Falling apart and mouldy, the bedroom windows needed an expert pair of hands according to the seller, but Kyle saw the decaying windows as an exciting DIY project.
A job best left to professionals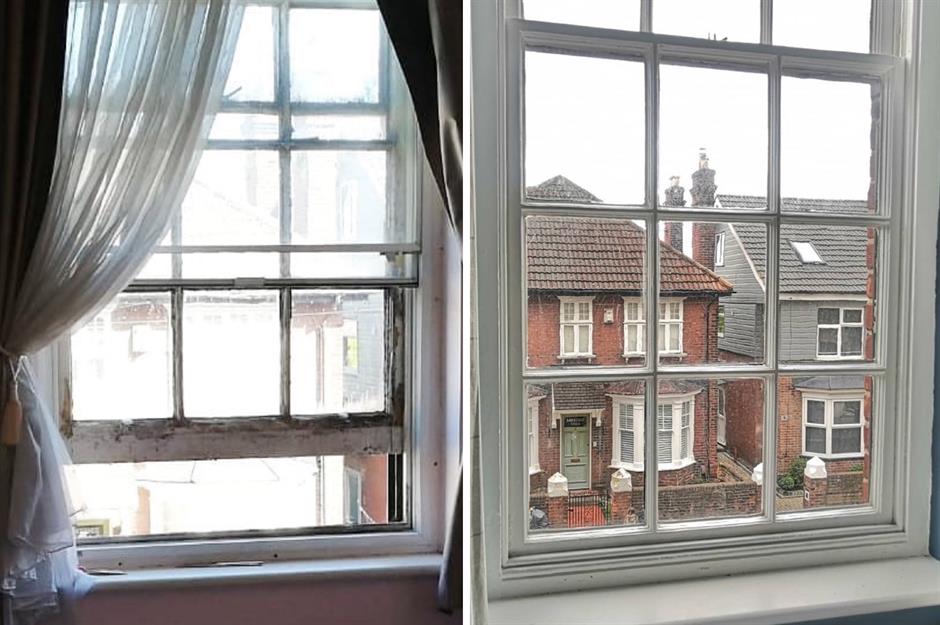 Kyle Mattison / That Property Guy
After stripping the window, Kyle found the damage wasn't as bad as expected, but it was still the most time-intensive renovation task he'd taken on to date. The windows needed sanding down and the wood needed treating, while paint stripper needed to be applied to the intricate nooks and crannies. The window panes were then replaced and the job was finished off with several tedious hours of careful painting. While he was thrilled with the final look of the windows, Kyle isn't rushing to take on the task a second time: "The sash windows were the bane of my life. They look amazing now, but I'd never want to do it again."
A rejuvenated bathroom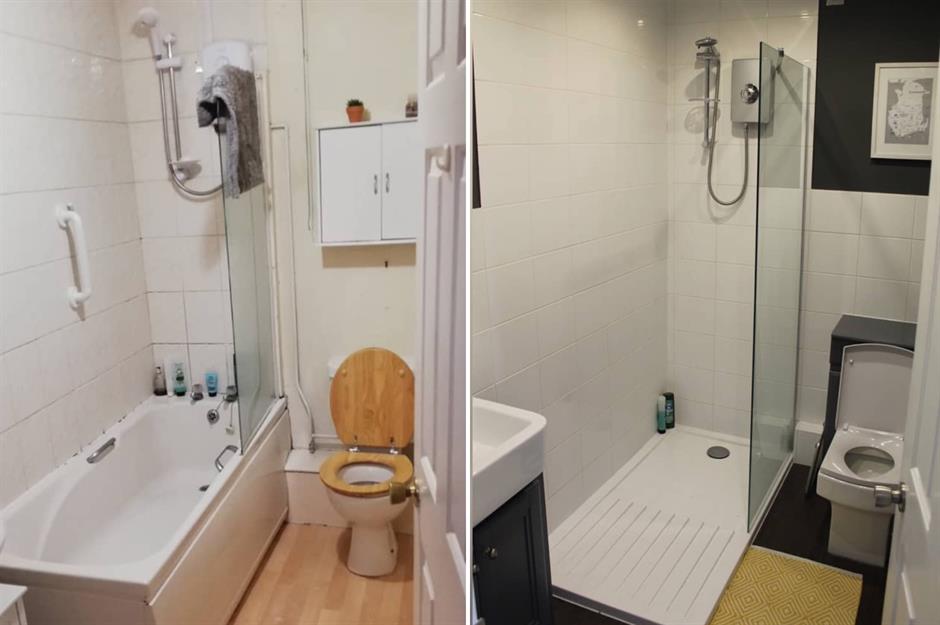 Kyle Mattison / That Property Guy
There were plenty of jobs that Kyle did leave to the experts, such as fitting a bathroom with a brand-new electric shower, toilet and vanity, all on top of new flooring. Rewiring the entire flat was another task that Kyle outsourced, and a brand new IKEA kitchen was also installed, complete with a dishwasher, washing machine and built-in fridge freezer.
A hefty increase in value
Kyle Mattison / That Property Guy
Kyle eventually opted to sell this property off, and it went for £138,000 ($189k) once all of the renovations were complete. That's a £43,000 ($59k) increase on Kyle's original buying price, excluding the £10,000 ($14k) renovation budget.
Fourth purchase: a two-bed house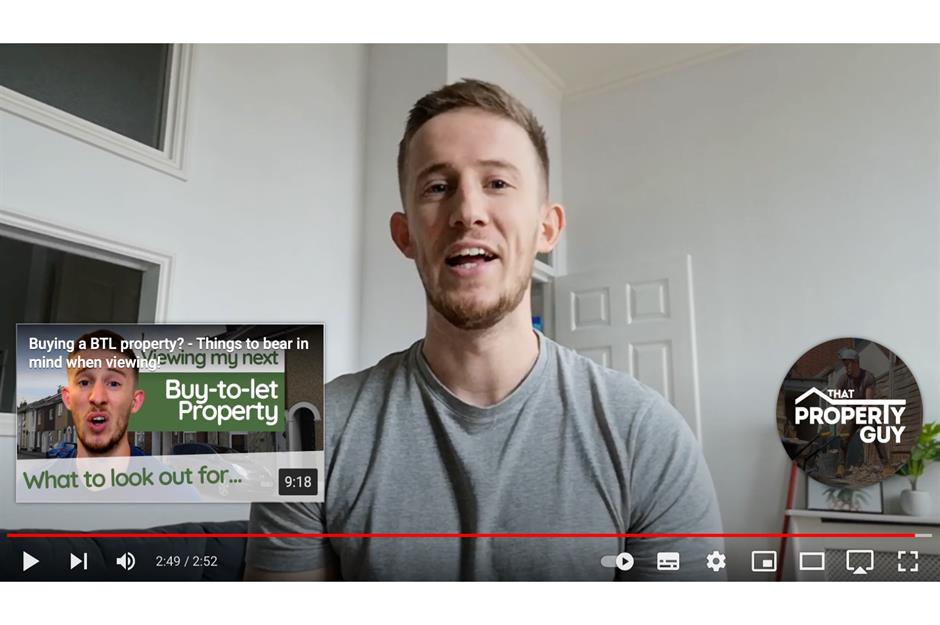 That Property Guy / YouTube
The purchase of house number four was agreed in March 2020 – and then the coronavirus pandemic hit the UK. With more spare time on his hands, Kyle decided to take his property mission onto social media, and That Property Guy was born. But Kyle was never in it for the likes: "When I first started posting I just wanted to provide some kind of value for people. It was the height of lockdown and people were talking about the stamp duty holiday and I wanted to try and help. I just wanted to give people tips on renovating and getting onto the property ladder, and I couldn't believe the reaction." Kyle finally completed the £148,000 ($203k) purchase in February 2021.
A mammoth task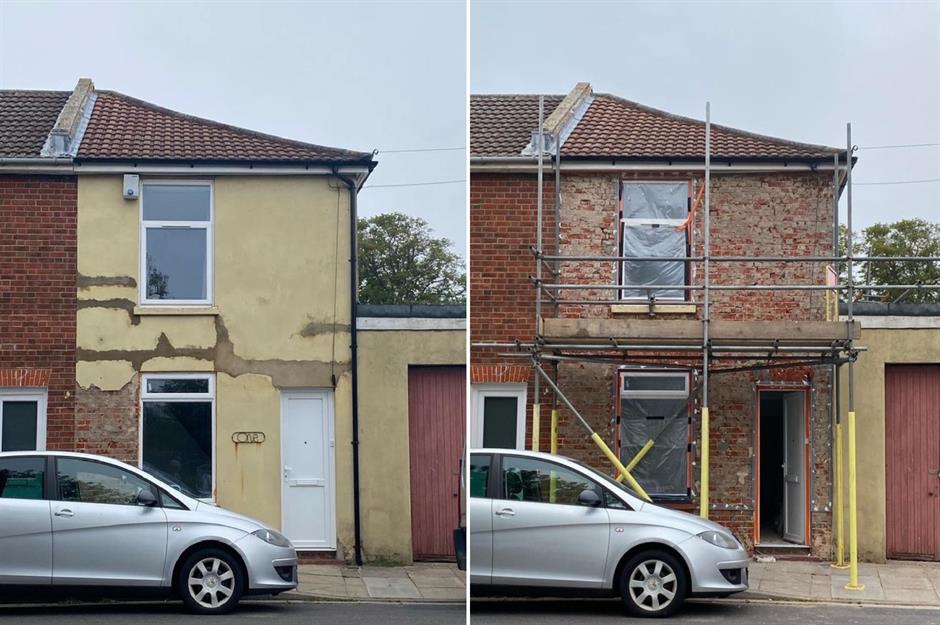 Kyle Mattison / That Property Guy
Making over the two-bed house and accompanying garden was Kyle's biggest project. Apart from the roof, Kyle overhauled the lot. Everything from the wiring to the plastering and the flooring needed ripping out and redoing. Former owners of the house had had the exterior brickwork rendered. But by the time Kyle snapped up the property the rendering desperately needed to be replaced as it was cracked, letting water through and causing damp patches inside. A new monocouche render was added to the wall once it had been stripped back to brick.
Heavy-duty renovations
Kyle Mattison / That Property Guy
Some projects are best left to professionals – particularly when one false move could cause the entire house to collapse. When it came to creating an open-plankitchen-diner the existing load-bearing wall was one such project. "So many people said don't try it yourself," Kyle explained. "You could really hurt yourself and if I'd tried it and messed it up, the house would've fallen over." Kyle also made sure he got council approval before going ahead with the building works.
Open-plan kitchen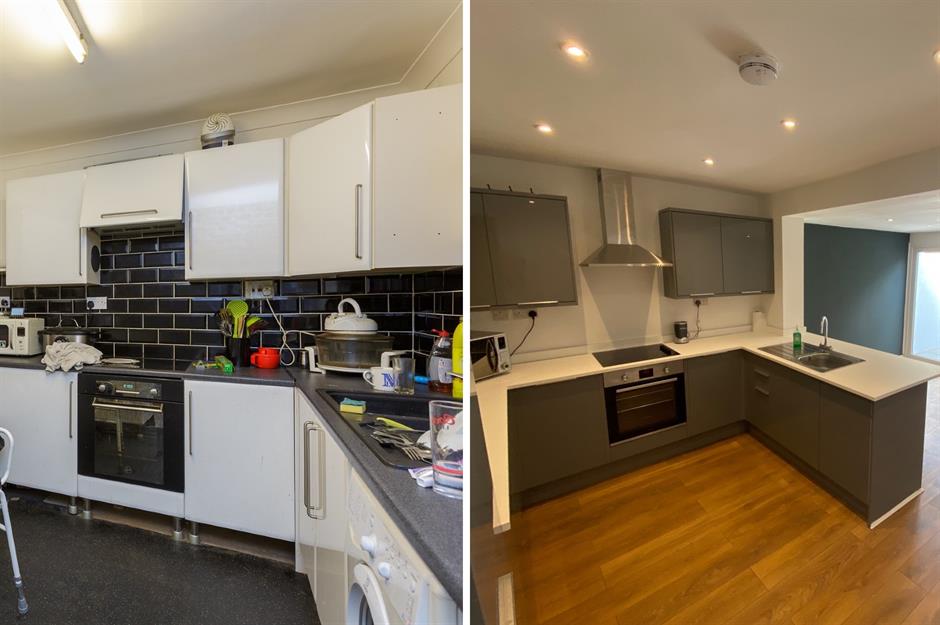 Kyle Mattison / That Property Guy
The new open-plan space gave the Victorian property a contemporary feel more suited to modern life. New flooring was added throughout, before the fittings and fixtures were upgraded to give the room an airy feel.
Lofty ambitions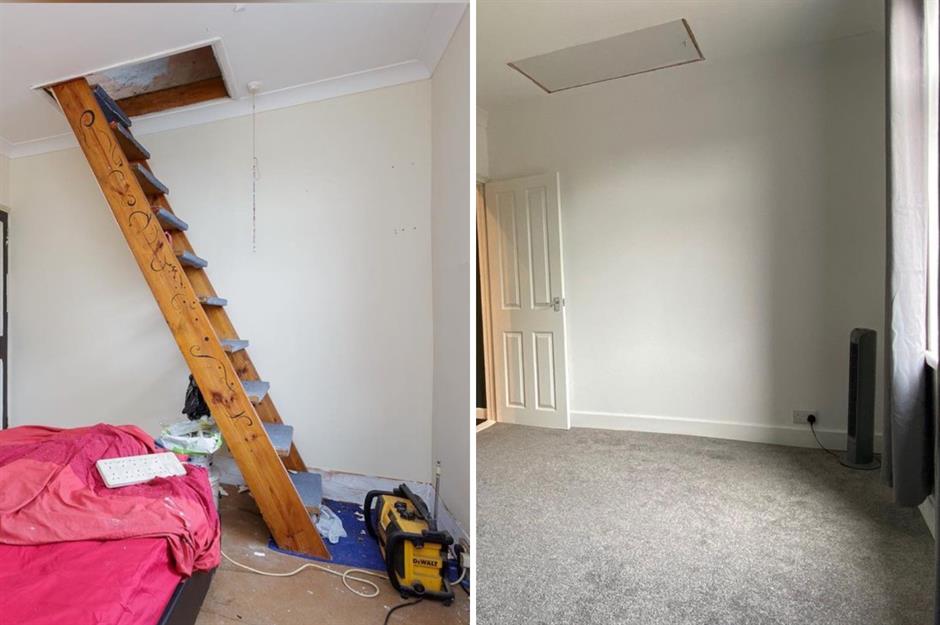 Kyle Mattison / That Property Guy
Kyle restyled the loft into an office space with new flooring and improved skirting boards, and he called in professionals to fix the electrics and the plastering. He then replaced the built-in stairs that had led into the back bedroom with a step-down ladder that could easily fold away, opening up more space in the bedroom.
Budget-busting garden plans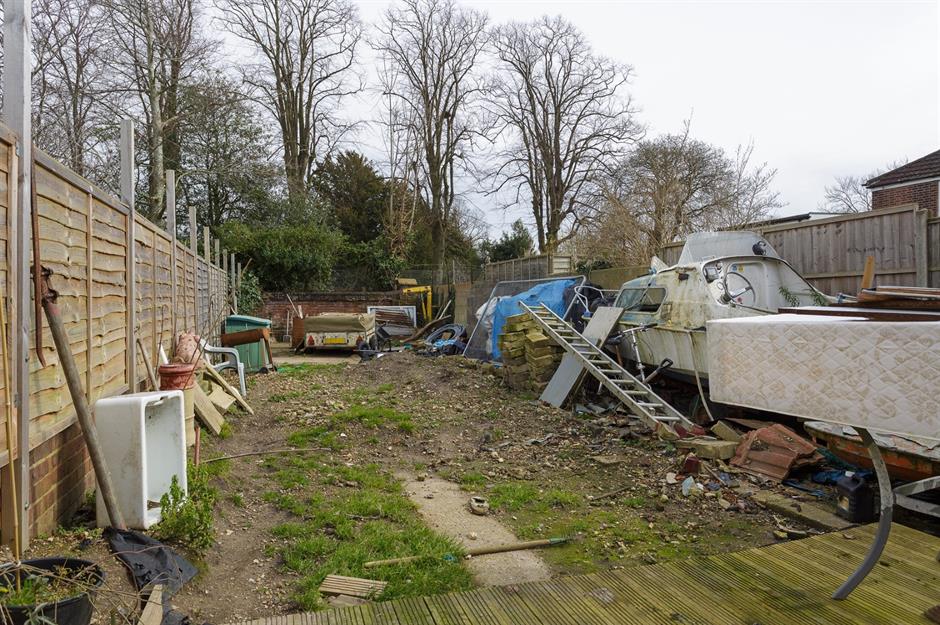 Kyle Mattison / That Property Guy
The renovation of the garden at property number four is Kyle's most-watched video online, with almost 12 million views. The plan was to level out the plot and fix the drainage system, but when professionals came to take a look, it was clear it was going to be an expensive job. "All of them laughed at me when I said I had a £2,000 ($2.7k) budget," Kyle said. "They literally laughed in my face. For that they said I could have the garden levelled and then add some turf, but it would look shocking."
Raking in the cash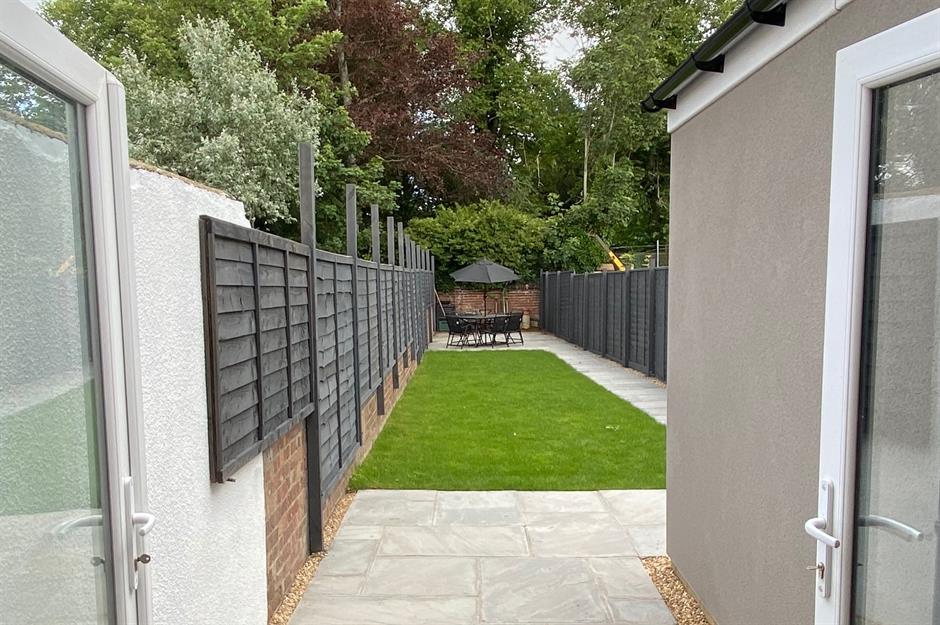 Kyle Mattison / That Property Guy
In the end Kyle splashed the extra cash and spent around £5,000 ($6.8k) on sprucing up the garden, including getting it cleared and adding paving stones. It may have been more than Kyle had hoped to spend initially, but experts estimated that the £5,000 ($6.8k) spend would increase the property's value by around £10,000 ($13.7k).
Money-spinning renovations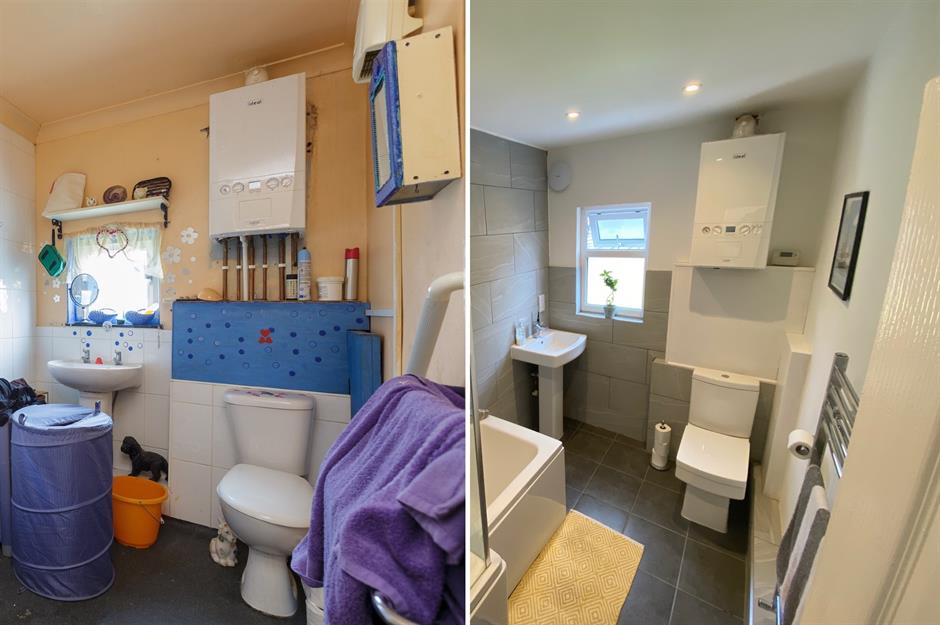 Kyle Mattison / That Property Guy
The fourth property Kyle bought was his biggest project and after buying for £148,000 ($203k) and investing around £30,000 ($41k) in fixing it up, the two-bedroom house was later valued at £225,000 ($307k). That's a profit of around £47,000 ($64k) before factoring in tax and extra fees. Kyle opted to keep hold of this house, and is planning to rent it out to make £1,000 ($1.4k) per month in rental income.
Pro tip: always do your research
Kyle Mattison / That Property Guy
Throughout Kyle's property journey people have commented that he doesn't flip properties in the typical fashion, but he thinks that might be what has given him the edge. "It's so important to do your research and realise that there isn't one way of doing it. I think I've been successful on social media because I do it in quite an unconventional way. I buy the houses and then live in them or then I sell them. So research the strategies and the financial side, because there isn't a one size fits all."
Fifth purchase: a three-bedroom house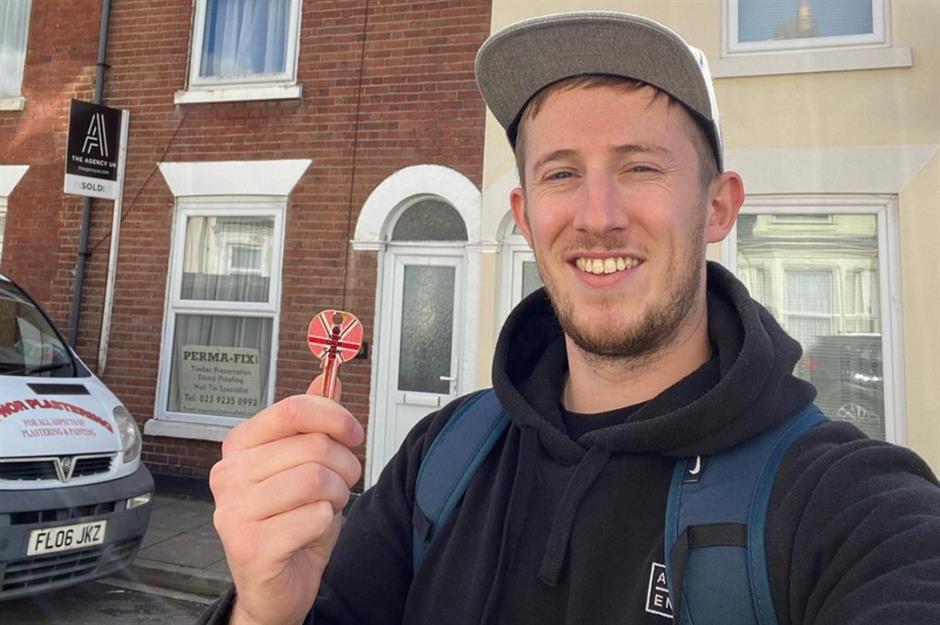 Kyle Mattison / That Property Guy
Kyle completed the purchase of his latest property on 30 September, the final day of the stamp duty holiday originally introduced to help buyers in the midst of the coronavirus pandemic. The house is a £197,000 ($269k) three-bedroom terrace property, and Kyle gave himself a £5,000 ($6.8k) budget to get it ready for tenants to move in in December.
A quick turnaround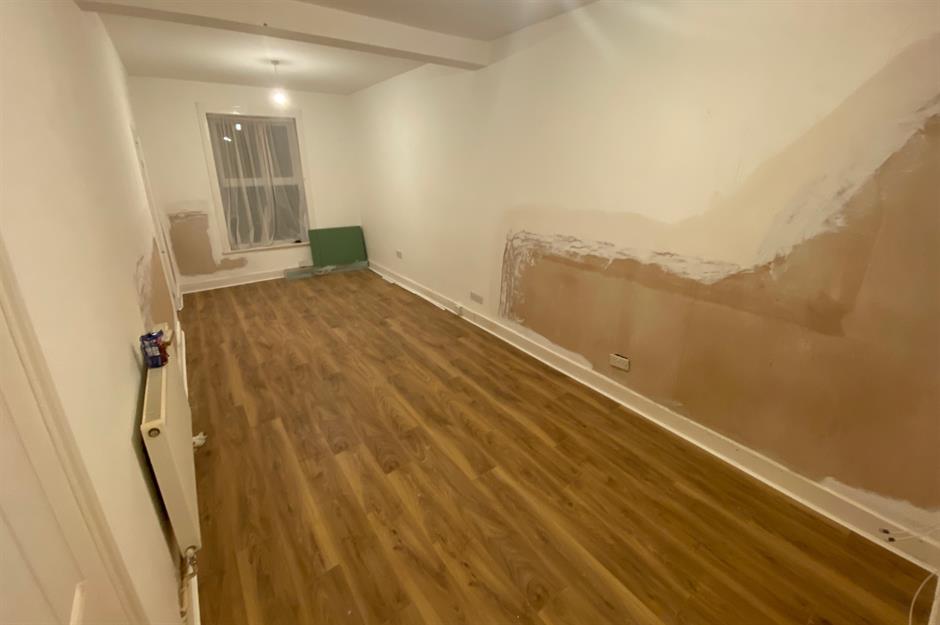 Kyle Mattison / That Property Guy
Kyle had given himself two months to prepare his new house, but with a tenant keen to move in on 1 November, he pulled in some favours to get the place ready ahead of schedule. Patches of damp were fixed and plastering, tiling and flooring were set to be completed before the new move-in date.
An easier task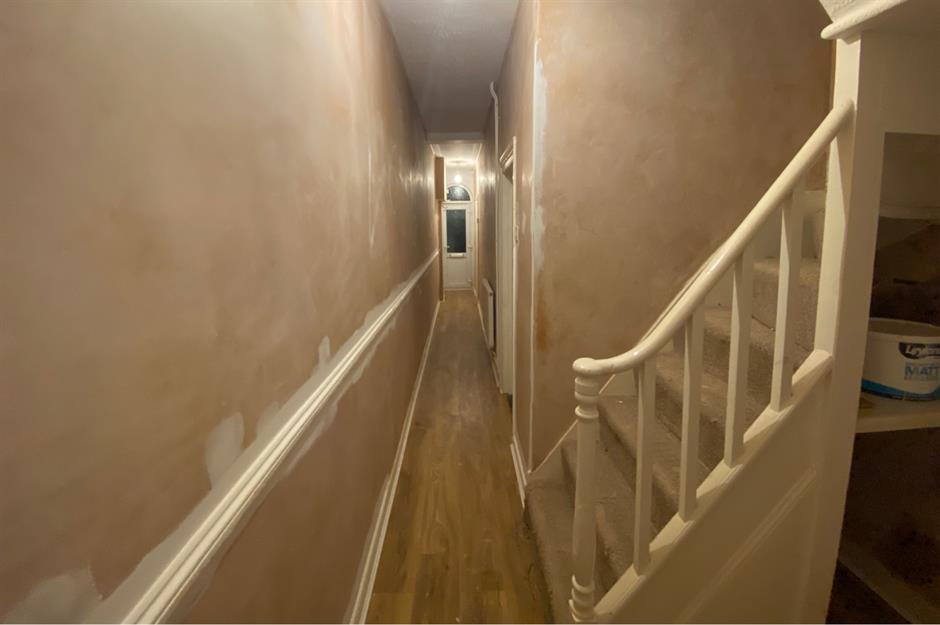 Kyle Mattison / That Property Guy
Kyle's latest purchase was a much easier job than property number four: "Compared to the last one it wasn't a massive project, which is why I thought I'd just get the keys, spruce it up and rent it out." Jobs such as painting and giving the place a final deep clean were set to be finished in the days running up to Kyle handing over the keys – one month earlier than scheduled and with around £1,000 ($1.4k) of his budget still intact. And the latest valuation came in at £225,000 ($307k), not bad for a few weeks' work!
The million-dollar question
Kyle Mattison / That Property Guy
So after six years of property flipping, renovating and leasing, how much money has That Property Guy made? "I worked out that I've sold and rented properties in excess of £1 million ($1.4m), but in terms of equity invested in properties I'd say it's between £150,000 ($205k) and £200,000 ($273k)."
Pro tip: make sure you're passionate about it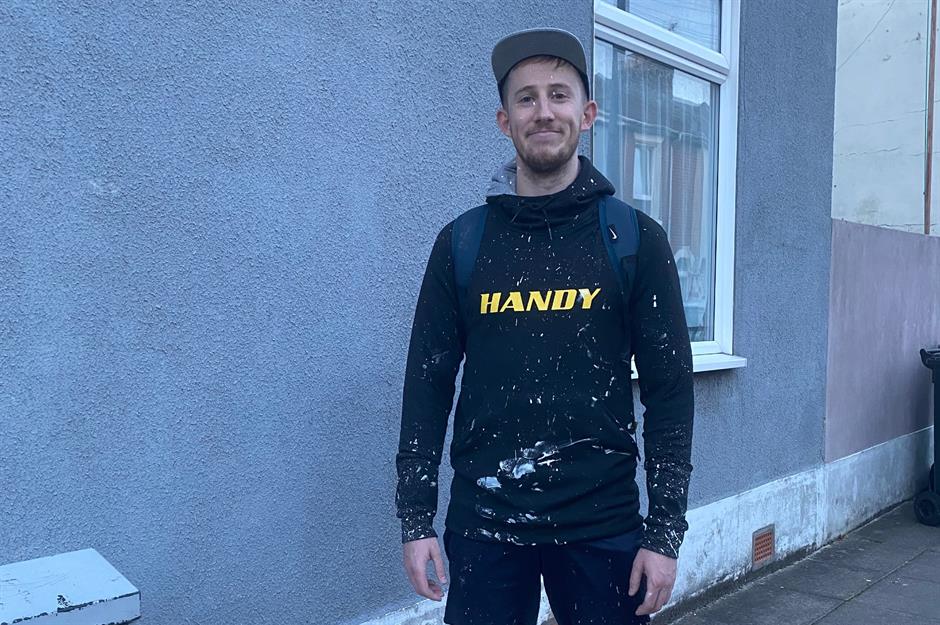 Kyle Mattison / That Property Guy "For me it's really helped that I'm passionate about what I do. Some people see the glitz and glamour – I say that, none of it's glamorous – but they see the financial side and just think about making money from it. That's fine, but you can make money in loads of different ways. I do this because I enjoy it and it's not a chore. Make sure you're passionate about it and know what you're signing up to."
Surprises along the way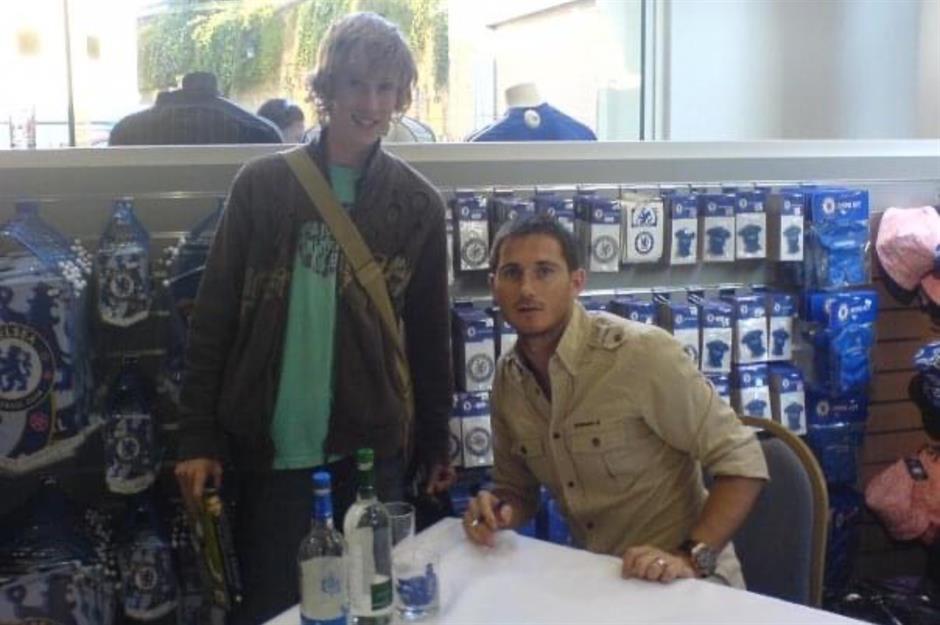 Kyle Mattison / That Property Guy
Kyle had hoped to be a homeowner in his twenties, but the number of properties he's bought and the social media following he's garnered wasn't quite what he imagined when he started out. "If you were to say, when I was 16 (pictured), that I would be almost 30 and have 400,000 followers on TikTok, be five properties down and have people messaging me daily on Instagram for advice and help, I would've laughed in your face. So the whole process has been crazy. The property side has been more methodical and thought out, so maybe less of a surprise, but it has progressed more than I thought it would."
Family affair
Kyle Mattison / That Property Guy
When Kyle first decided to up sticks and buy a property in his early twenties, not everybody thought it was a great idea. Family members thought it was a big leap to take at such a young age, while friends thought Kyle was "having a weird moment". Now Kyle's mum and dad visit every couple of months to lend a hand, while Kyle's girlfriend (pictured) got fully stuck in during lockdown.
The future of That Property Guy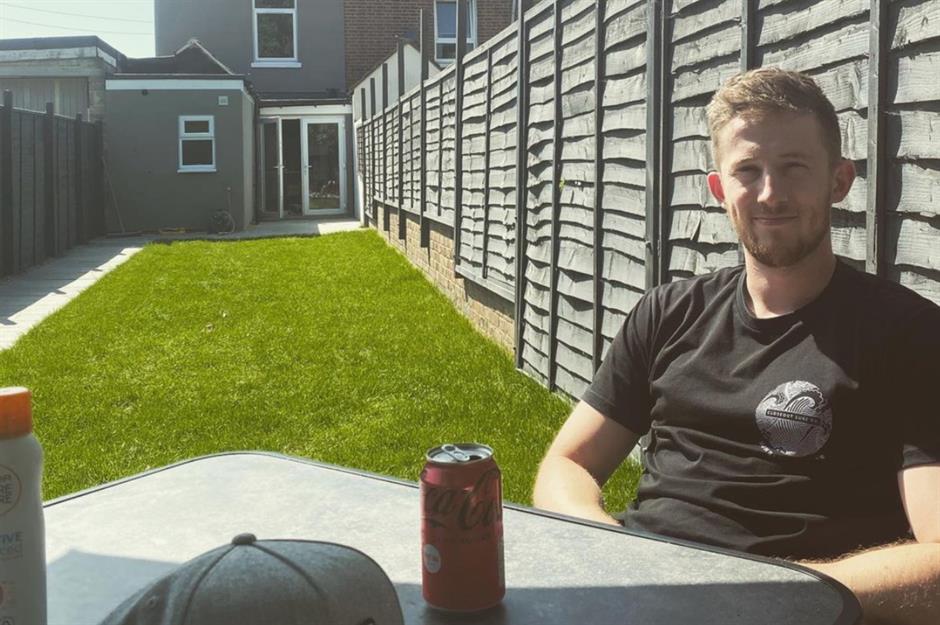 Kyle Mattison / That Property Guy So what's next for That Property Guy? "I might change my answer in a year's time, but right now I don't want to be somebody who has a portfolio of 50 properties. I will do an Airbnb next, so the plan is to renovate a flat in Southsea that people can use for holidays. But I don't really plan long-term, so maybe after this one I'll do another 10, or maybe I'll say actually, I don't really want to do any more."
One last piece of advice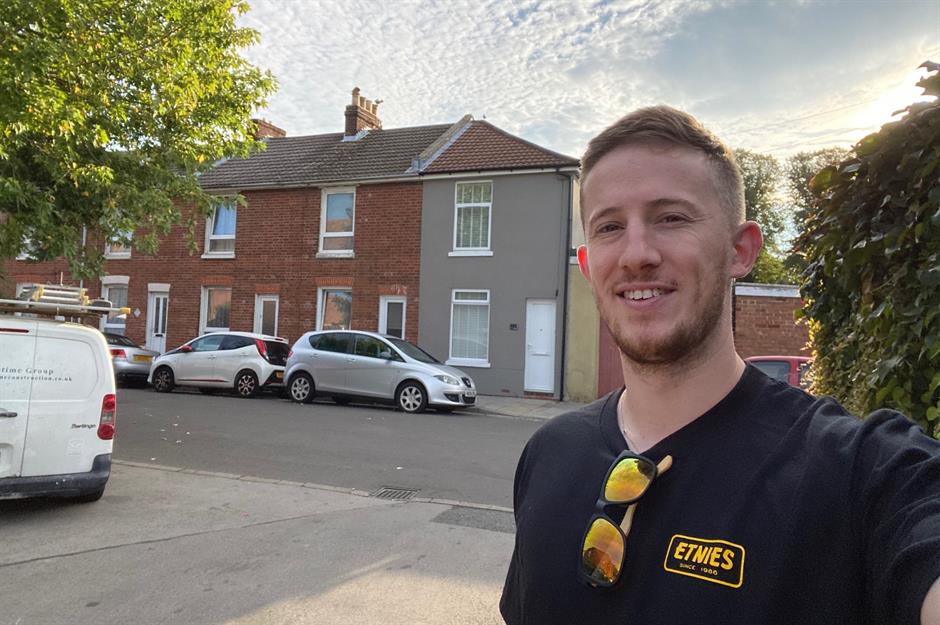 Kyle Mattison / That Property Guy
Kyle's final pro tip? "Follow That Property Guy." You can find all of Kyle's DIY hacks, renovation videos and tips for getting onto the property ladder on TikTok, Instagramand YouTube. All of Kyle's content is also available through thatpropertyguy.uk. With £1 million-worth ($1.4m) of property bought and sold before he turns 30, we can't wait to see what he achieves by 40. Watch this space!