[Originally written for and published by loveEXPLORING.com]
Perfect panoramas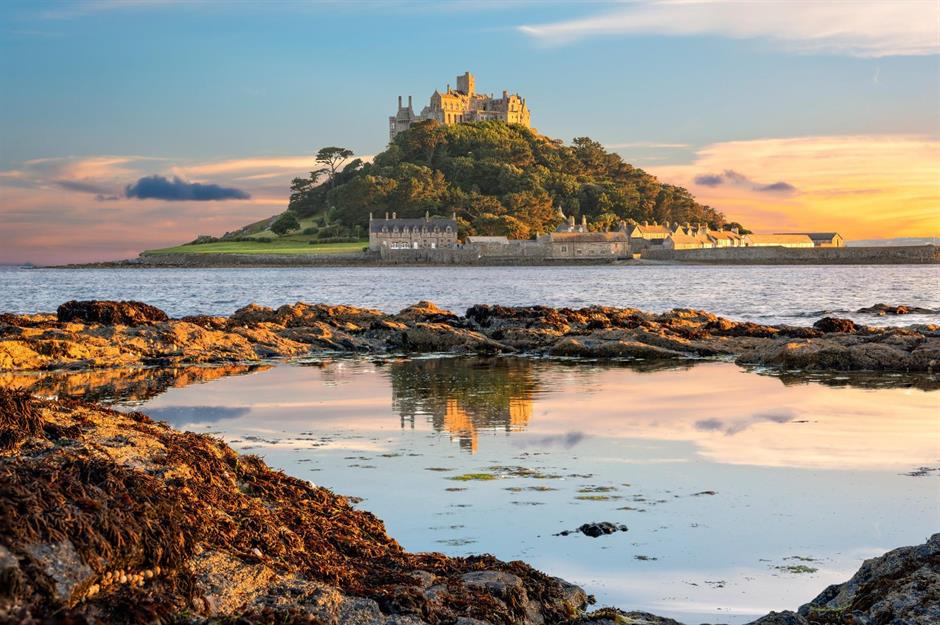 Valery Egorov/Shutterstock
The UK is home to some of the world's most astounding sights, from man-made structures that have housed royalty and protected empires, to gorges and mountains that have dominated the landscape for millennia. But do the British public have a favourite? Here are 30 of the most beautiful views in the UK, ranked according to recent research by LNER (London North Eastern Railway). If you're planning a visit don't forget to check local travel restrictions and only head out when it's safe to do so.
30. Bamburgh Castle, Northumberland, England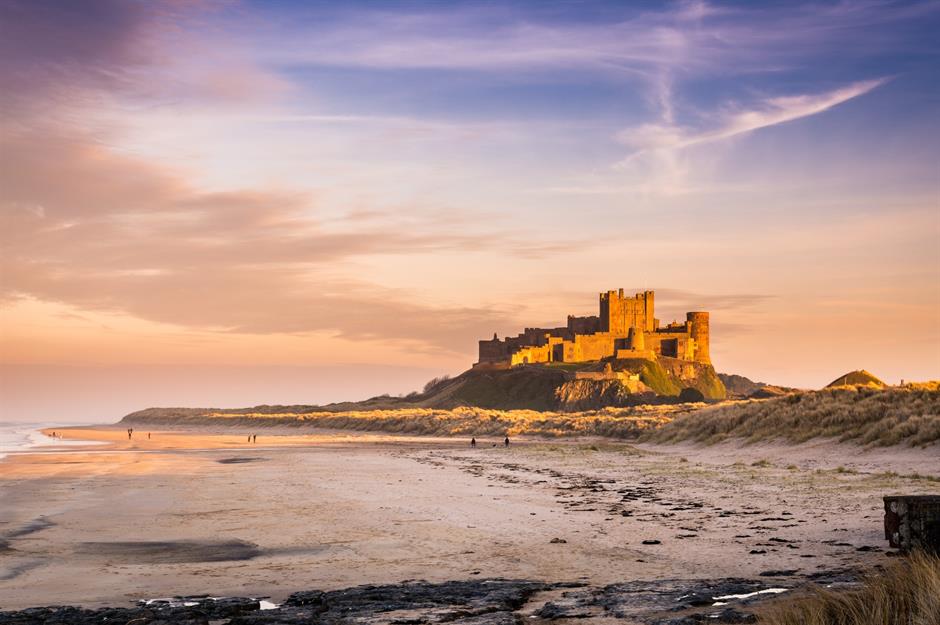 Dave Head/Shutterstock
This coastal fortress has lorded it over the northeast county of Northumberland for more than 1,400 years. Towering 150 feet (46m) above the coastline, the imposing castle has a history of high-profile inhabitants, and can be spied from the puffin-populated Farne Islands in the North Sea and across miles of rolling Northumberland hills. Its nine acres are scattered with chapel ruins, soils rich with archaeological treasures, and batteries of canons first readied for battle during the Napoleonic Wars.
29. Eden Valley, Cumbria, England
Owen Humphreys/PA Archive/PA Images
The River Eden curls its way between the Pennines to the east and the Lake District to the west, shaping Cumbria's lush Eden Valley as it goes. Along the way, it wiggles past petite sandstone villages and historic castles, echoes of illustrious residents from centuries past. The Eden Valley is also one of the jewels of the Settle to Carlisle railway line, which carries passengers across the River Eden and through Cumbria's scenic pastures.
28. Freshwater Bay, Isle of Wight, England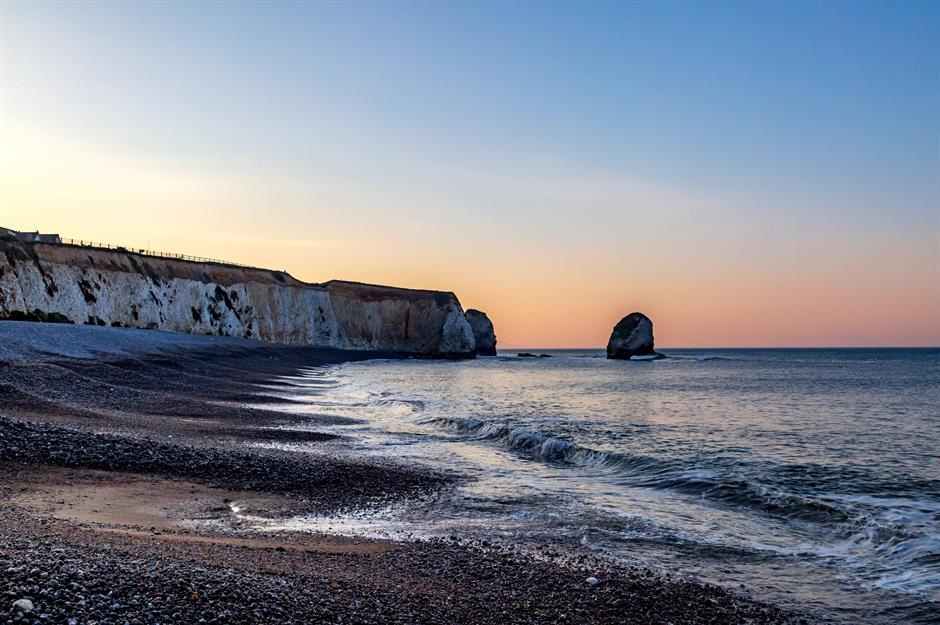 Melanie Hobson/Shutterstock
Situated on the western tip of the Isle of Wight, Freshwater Bay is nestled between chalky cliffs and punctuated with rock pools and jagged ledges. Centuries of erosion have formed this beach, with its bluffs gradually crumbling into powdery pebbles and forming soft sand underfoot. Topping off the view is the English Channel and its turbulent waves, which stretch out from the little cove as far as the eye can see.
Now check out the UK's most beautiful beaches from above
27. The Three Sisters, Glen Coe Valley, Scotland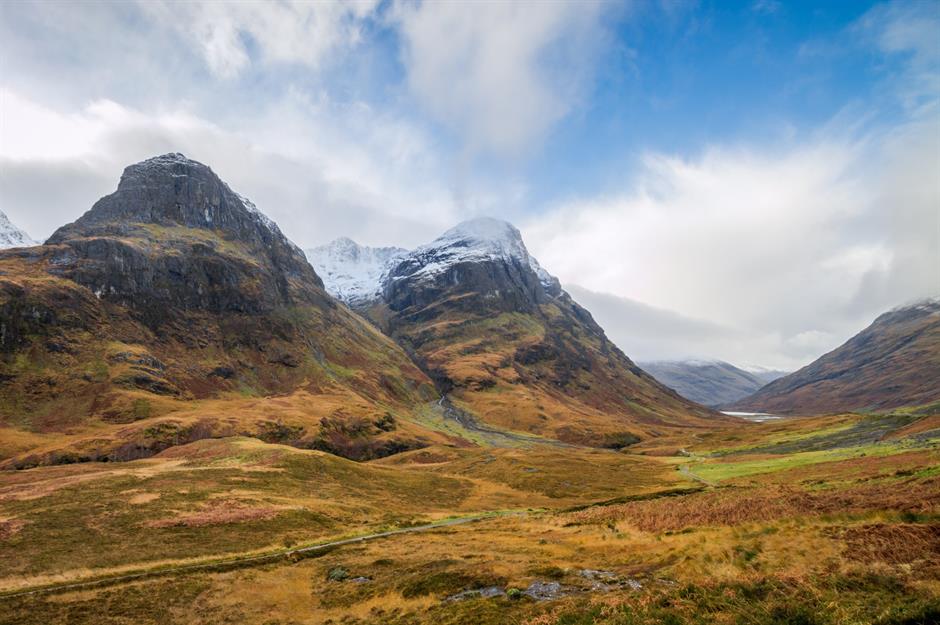 Fabio Gomes Freitas/Shutterstock
The Three Sisters are a trio of steep ridges that lie to the south of Glen Coe in the Scottish Highlands, making up part of the majestic but formidable Bidean nam Bian mountain complex. The tallest peaks in the county of Argyll and Bute, they were carved into Glen Coe's rugged landscape by long-extinct glaciers and volcanoes, and avid explorers are drawn in by their challenging hikes and lofty summits. The Three Sisters loom over the Lost Valley, which offers a patchwork of trail paths and scramble routes surrounded by brooks and waterfalls.
26. Angel of the North, Gateshead, England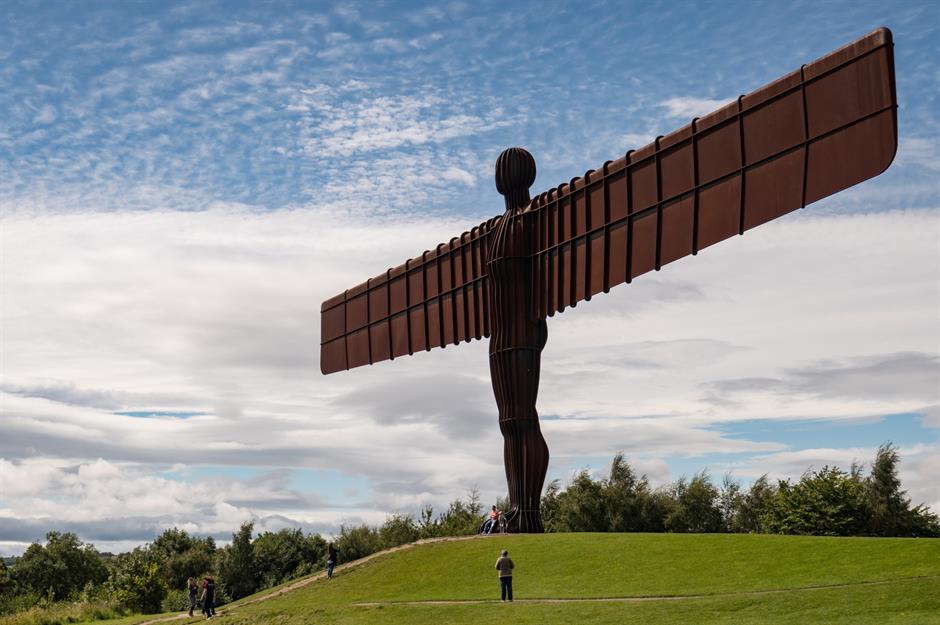 Keith Barnes/Shutterstock
In 1998, the Angel of the North was erected over the town of Gateshead in North East England, according to the design of British sculptor Antony Gormley. This remarkable engineering feat has a 175-foot (54m) wingspan – greater than that of a Boeing 757 aircraft – while its soaring height of 65 feet (20m) is equivalent to four stacked double-decker buses. That makes it the largest known angel sculpture in the world. A sturdy base formed of 500 tonnes of concrete tether this steel and copper structure to the ground, allowing it to withstand wind speeds of more than 100mph.
25. Richmond Park, London, England
Timothy Dry/Shutterstock
Richmond Park is a bountiful utopia of ancient trees, rare flora and wildlife tucked away in buzzing London. Spanning 2,500 acres, the royal park has been home to free-roaming deer since 1637, with 630 of them currently grazing in the habitat. Its expansive acreage is also home to Isabella Plantation, a Victorian woodland renowned for its astonishing azaleas, which border the ponds and streams that break up the greenery.
Love this? Follow our Facebook page for more travel inspiration
24. Hadrian's Wall, Northumberland and Cumbria, England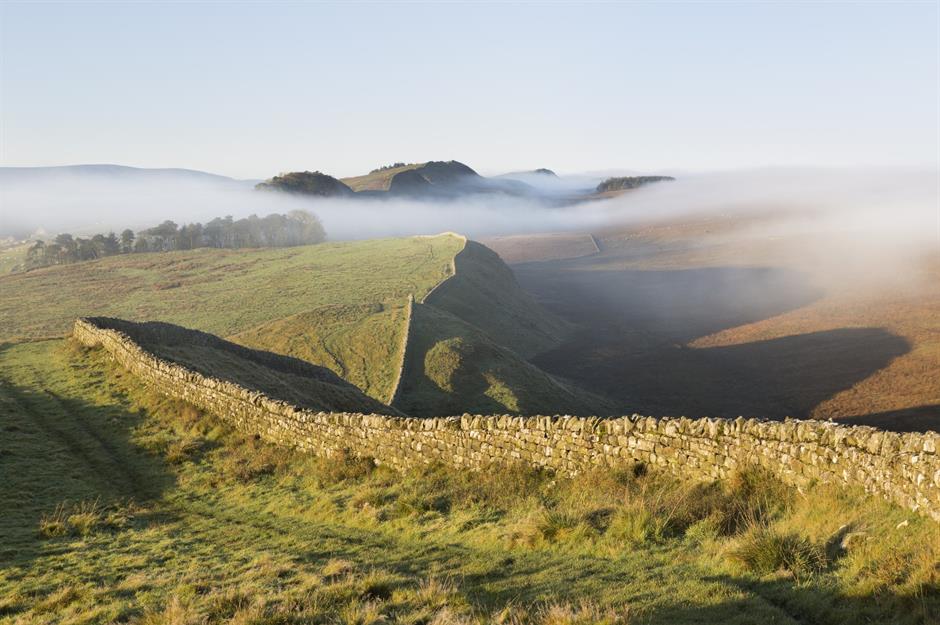 Andrew P. Walmsley/Shutterstock
Slicing an equator through Northern England is Hadrian's Wall, which stretches from the North Sea to the Irish Sea. Originally built circa AD 122, at the behest of Emperor Hadrian, these 73 miles (117km) of sturdy stone barricades were designed to guard the northern frontier of the Roman Empire, and they remain a robust reminder of the domain's staggering strength and ingenuity today. Full-size reconstructions, museums and forts denoting the era's incredible history can be found along the best-preserved stretches of the wall.
23. Robin Hood's Bay, Yorkshire, England
travellight/Shutterstock
Cobbled streets and alleyways meander down to the sand-dusted beach of Robin Hood's Bay, a fishing village perched on Yorkshire's Dinosaur Coast. Once a hub for sailors, tradespeople and smugglers, the village has a chequered history, and traces of its crooked past can be found in its secret passages and hidey holes (allegedly used to transport goods from one end of the bay to the other without the items seeing the light of day). Situated on this stunning Jurassic coastline, the bay is also home to an abundance of fossils, which date back to the prehistoric age.
22. Buttermere, Lake District, Cumbria, England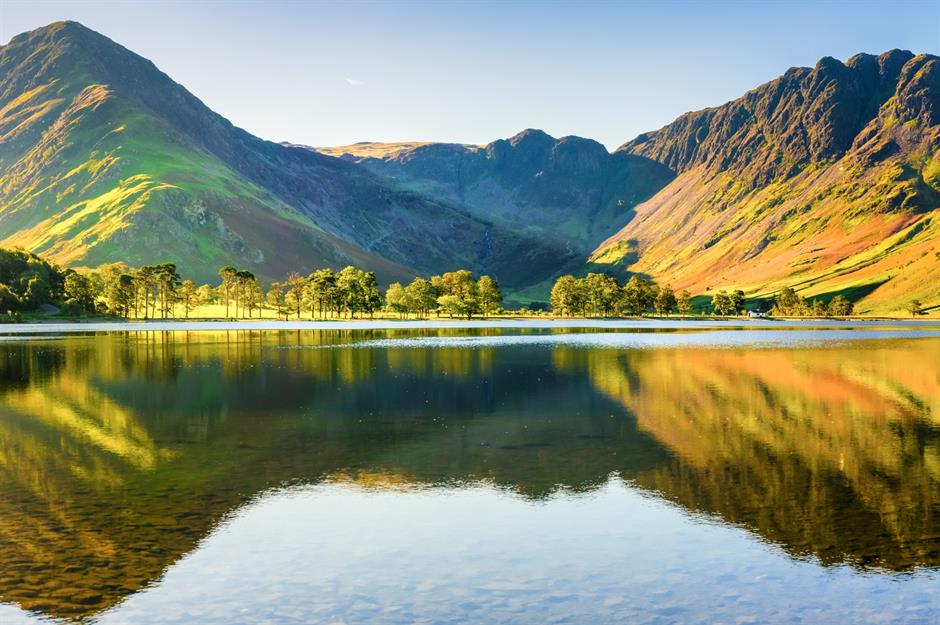 Pajor Pawel/Shutterstock
Buttermere Lake mirrors the district's hills in its glass-like surface, and makes a glistening centrepiece for the eponymous hamlet in which it's located. The lush and fertile pastures proved ideal for dairy farming, earning Buttermere its name, while peaceful trails slice through the surrounding woodland.
21. Peak District view from Stanage Edge, Derbyshire, England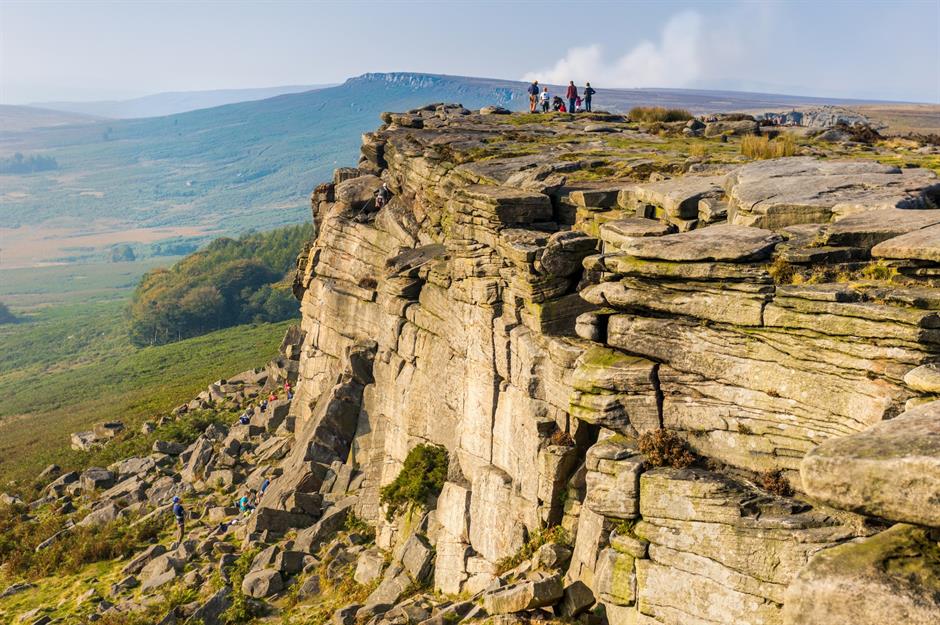 Valdis Skudre/Shutterstock
The Peak District is a mosaic of glorious views, but the sight from Stanage Edge may be the finest. This craggy gritstone ridge offers walkers and hardy rock climbers a 3.5 mile (5.6km) stretch from which to view an exquisite panorama of the desolate Dark Peak moorlands and Hope Valley. Disused grindstones and millstones pepper the landscape, pinpointing areas of once-prosperous industry that fell out of fashion in the mid-1800s.
20. St Michael's Mount, Cornwall, England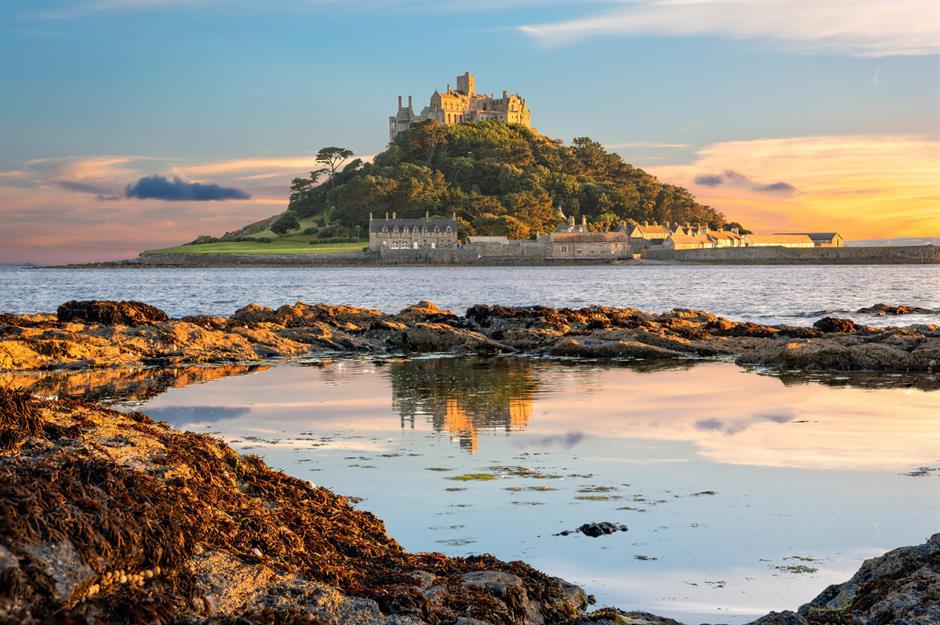 Valery Egorov/Shutterstock
From a distance, Cornwall's St Michael's Mount could be an emerald mirage flickering in the brisk sea wind. The castle is reminiscent of a fantasy kingdom and, unsurprisingly, the fortress and its tiny tidal island are steeped in legend: there are tales of mermaids tempting sailors to their peril and the Archangel Michael granting miracles here. The island has been inhabited since the Neolithic era and its striking castle, subtropical garden and harbour village thrive within a unique microclimate.
19. Arthur's Seat, Edinburgh, Scotland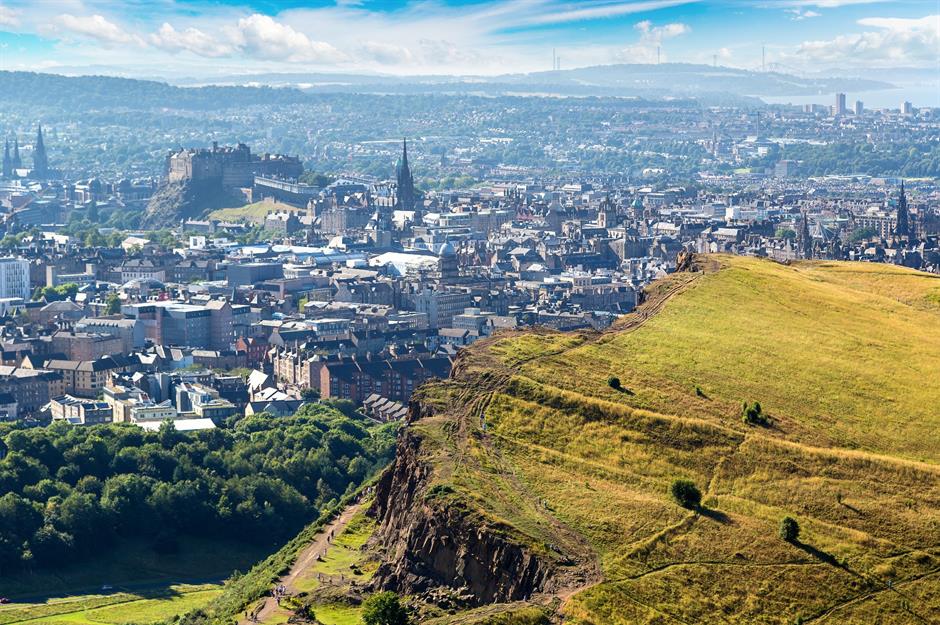 S-F/Shutterstock
This jagged peak is the highest point in Edinburgh and it's a breathtaking backdrop to Scotland's capital. Thrust into shape millions of years ago by an ancient volcanic eruption, Arthur's Seat now offers a tranquil picture of the city below to those willing to scale its arduous paths. The Seat's namesake remains a mystery, but legend has it the hill is a dragon that fell asleep in the spot after devouring the city's livestock. Story spinners still speculate about when the dragon might awake from its slumber…
18. Westminster Bridge, London, England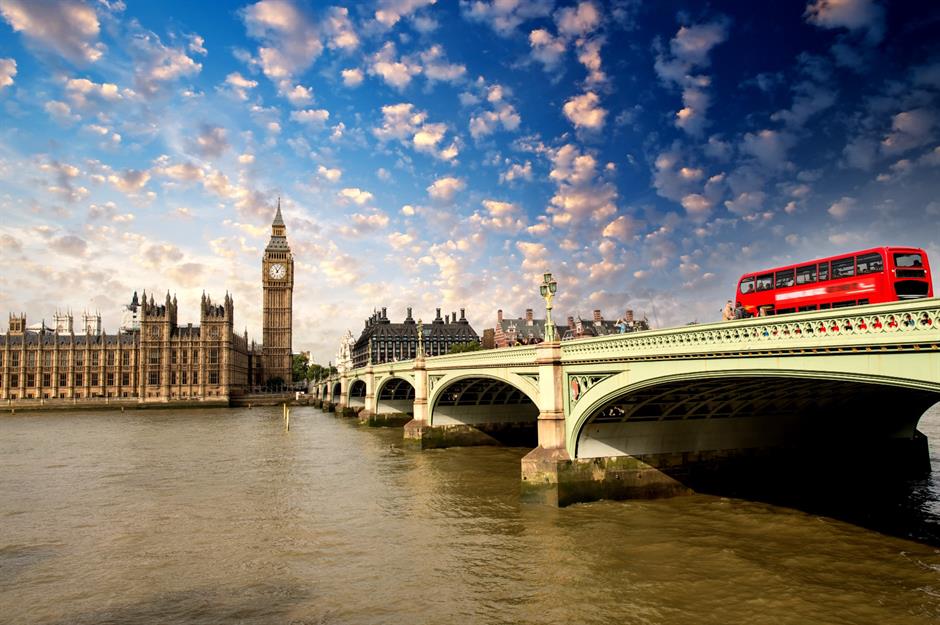 pisaphotography/Shutterstock
The second and current incarnation of Westminster Bridge was built in 1862 and has a Gothic style in keeping with the Houses of Parliament, where it leads. It stretches 827 feet (252m) across seven spans, each marked by a trio of octagonal lanterns supported by green cast-iron columns: gold quatrefoil swirls into the letters "V" and "A" to commemorate Queen Victoria and her husband Prince Albert, too. Located at the heart of the River Thames, Westminster Bridge offers views of the slow-turning white capsules of the London Eye while the red steel arches of Lambeth Bridge are visible upstream.
17. Durdle Door, Dorset, England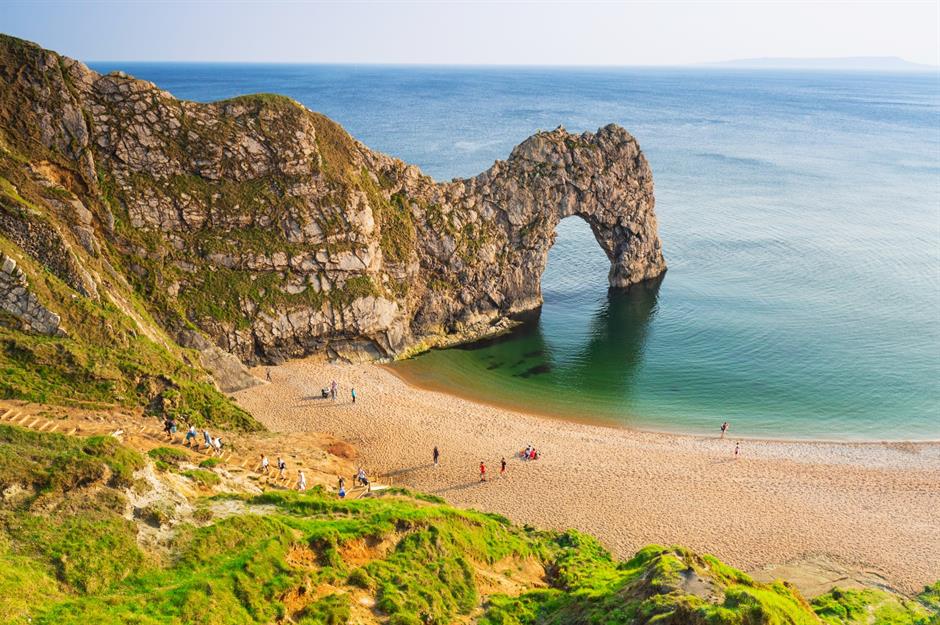 Patryk Kosmider/Shutterstock
Durdle Door was created around 10,000 years ago when powerful tides pierced through the Portland limestone, leaving this beautiful peek-a-boo archway in their wake. A natural cliff pathway trails down to the sandy beach, the edges of which are greeted by the lapping waves of the English Channel. This dazzling chunk of Dorset's shoreline, known as the Jurassic Coast, was England's first natural UNESCO World Heritage Site.
16. Giant's Causeway, County Antrim, Northern Ireland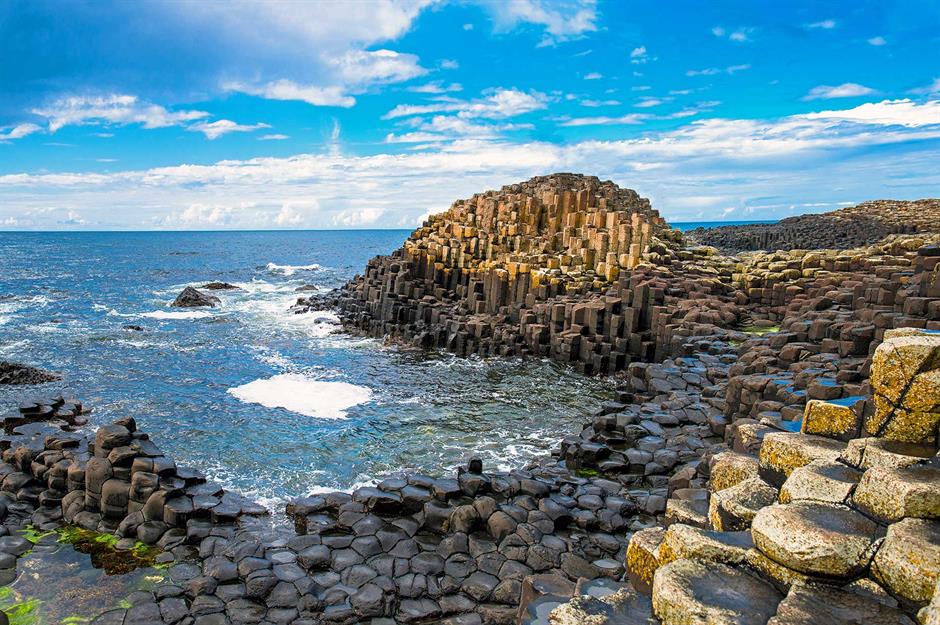 Lyd Photography/Shutterstock
Some 40,000 columns of black basalt rock protrude from the sea on Northern Ireland's northerly coast to form the Giant's Causeway. A flurry of myths and legends are attached to the natural formation, but it's most likely the geological footprint of intense volcanic activity some 50 to 60 million years ago. Oozing molten lava would have burst through cracks in the ground and cooled rapidly to form a plateau of columns, while millennia of erosion have buffeted the rocks into the marvel they are today.
9 of the UK's most spectacular Areas of Outstanding Natural Beauty
15. Pen y Fan, Brecon Beacons, Wales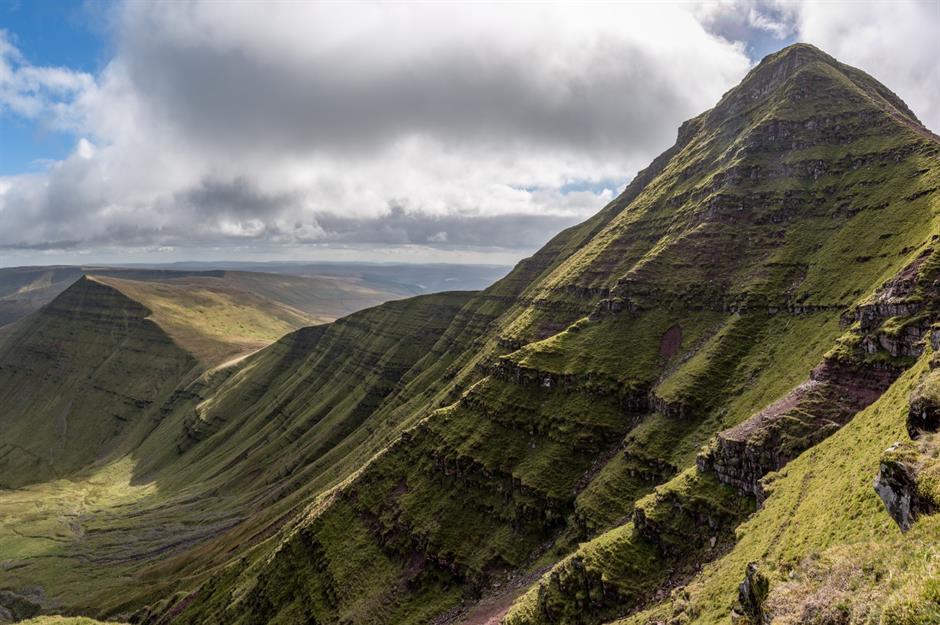 huaidanphotography/Shutterstock
The tallest peak in South Wales at 2,907 feet (886m), Pen y Fan rewards the hikers who reach its summit with a breathtaking panorama of the Severn Estuary and swathes of Wales' finest countryside. On the clearest days, the Cambrian Mountains and Black Mountains loom as menacing shadows on the horizon. Fascinating man-made artefacts can also be spotted, as work tools hailing from the Bronze Age are scattered across Brecon Beacons National Park.
14. Loch Lomond, Trossachs National Park, Scotland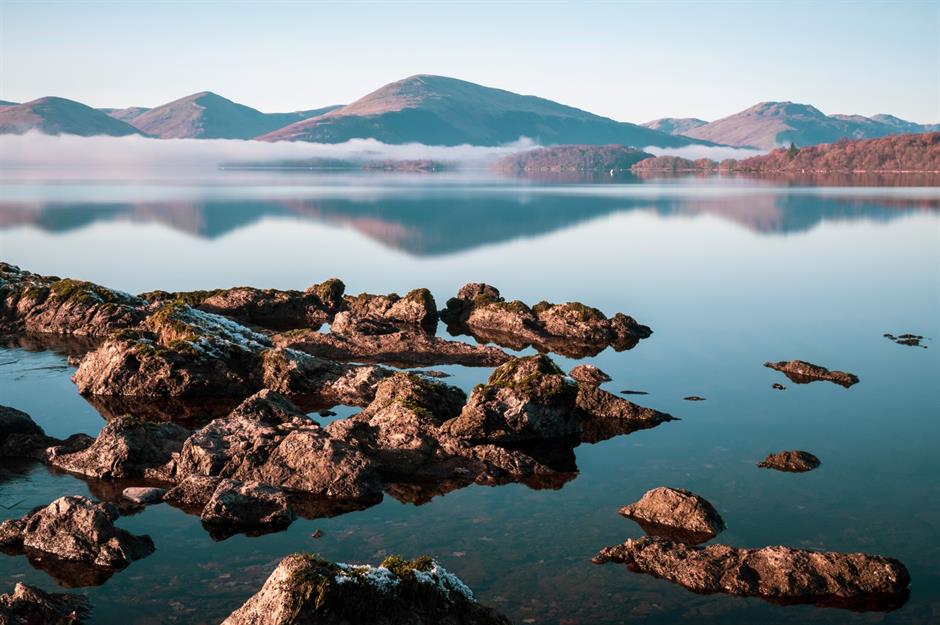 John Paul Murray/Shutterstock
Loch Lomond is a glistening freshwater oasis stitched between the curves of Trossachs National Park's most spectacular mountains. The loch's sheltered location mean its surface is extra calm, disrupted only by ripples of sunlight. On the eastern shore lies Milarrochy Bay, a particularly stunning inlet of Britain's largest lake.
13. York Minster, York, England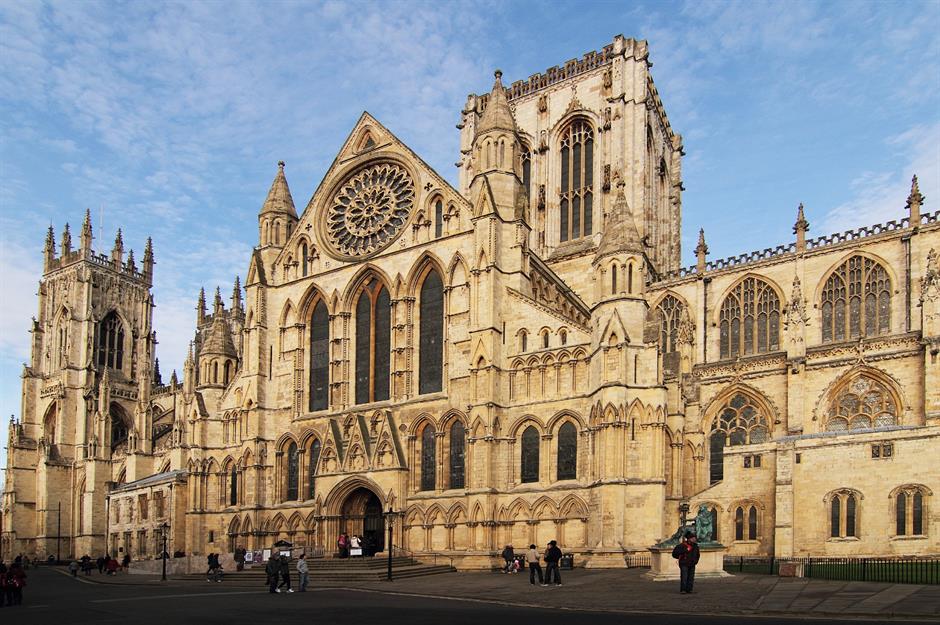 bojangles/Shutterstock
Cloaked in Gothic grandeur, York Minster has dominated the skyline of this city in Northern England since its establishment in the 7th century. The centuries-old house of worship has marvels aplently, including medieval stained glass and handcrafted stone.
The world's most beautiful cathedrals you should visit once in your lifetime
12. Cheddar Gorge, Somerset, England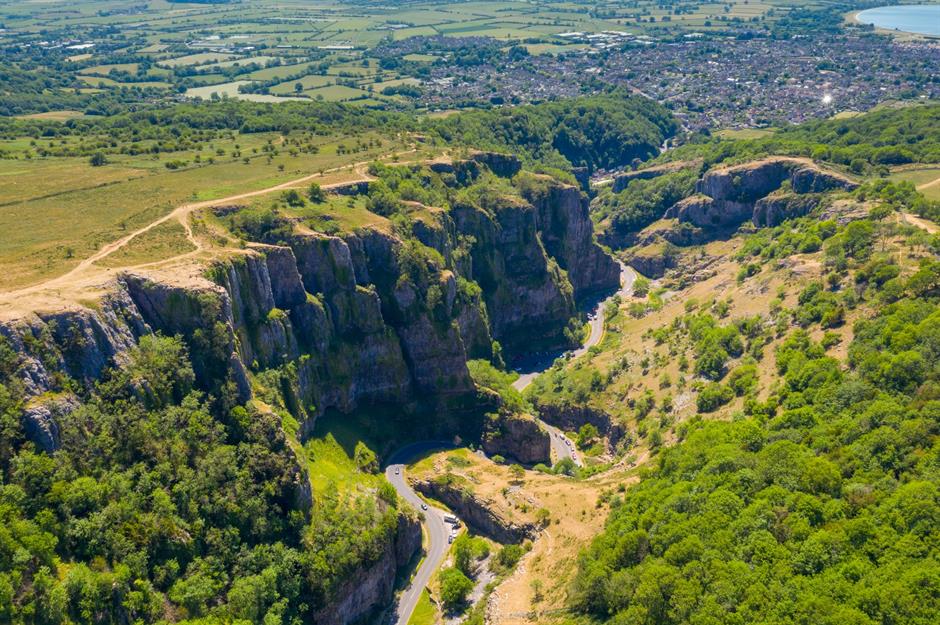 stocker1970/Shutterstock
Cheddar Gorge cuts through the Mendip Hills in Somerset, retracing a path first carved by violent floodwaters that surged through the area after the last Ice Age. The largest gorge in England, the crevasse is an impressive three-miles (4.8km) long and around 400-feet (122m) deep. Rocks jut out over sheer drops and serve as a playground for the herds of feral goats that roam freely in the area.
11. Ben Nevis, Highland, Scotland.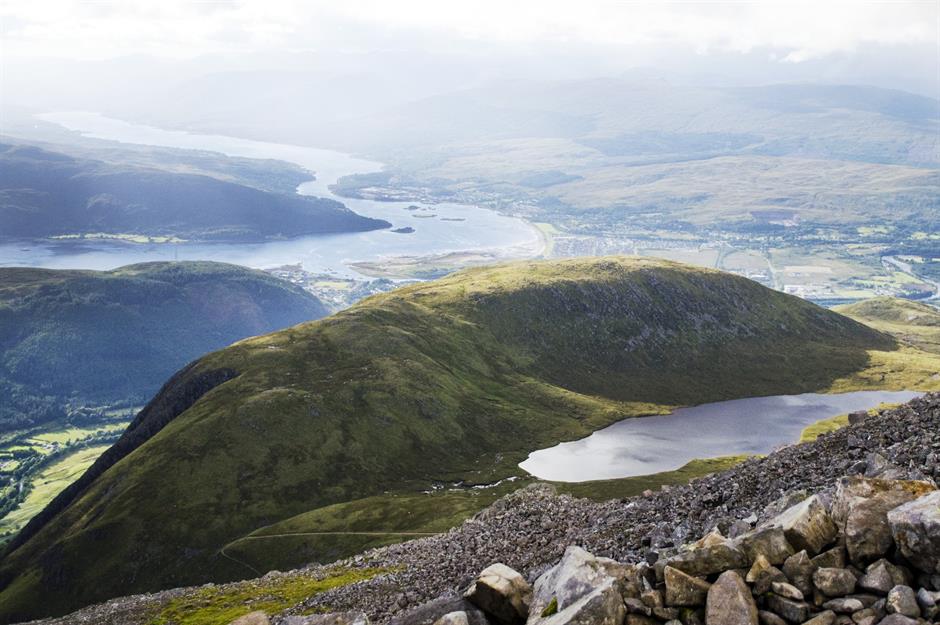 dgoomany/Shutterstock
The UK's tallest mountain towers into the clouds at a majestic height of 4,413 feet (1,345m), a fierce protector of Fort William, the lakeside town that sits at its base. Smaller pools of water gather in crevices along the mountain's hardy granite walkways, which refuse to be weathered by the rough highland breeze. Those who reach Ben Nevis' cairn are rewarded with a scenic vista of mountains that stretches as far as Northern Ireland.
10. Stonehenge, Salisbury, Wiltshire, England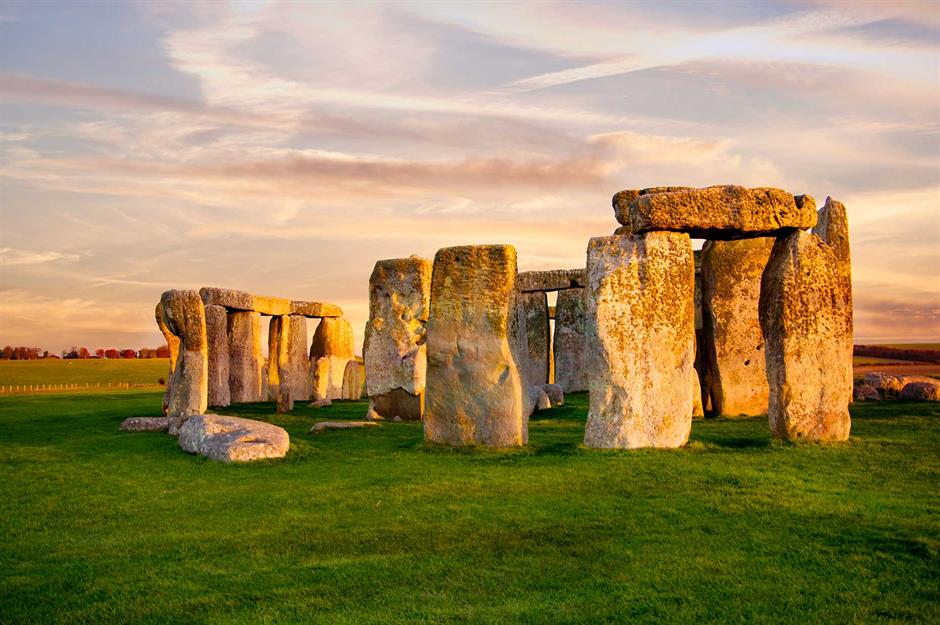 The-Walker/Shutterstock
Millennia of hard labour and engineering prowess went into the construction of Stonehenge as it stands today. The central cluster of stones consists of larger sarsens, elevated to form two concentric formations, and remains of a smaller bluestone circle and inner oval. This sacred site, particularly cherished by the Druid community, is best viewed at sunrise or sunset, when a warm amber glow washes over the stones as it has every day for the past 5,000 years.
9. White Cliffs of Dover, Kent, England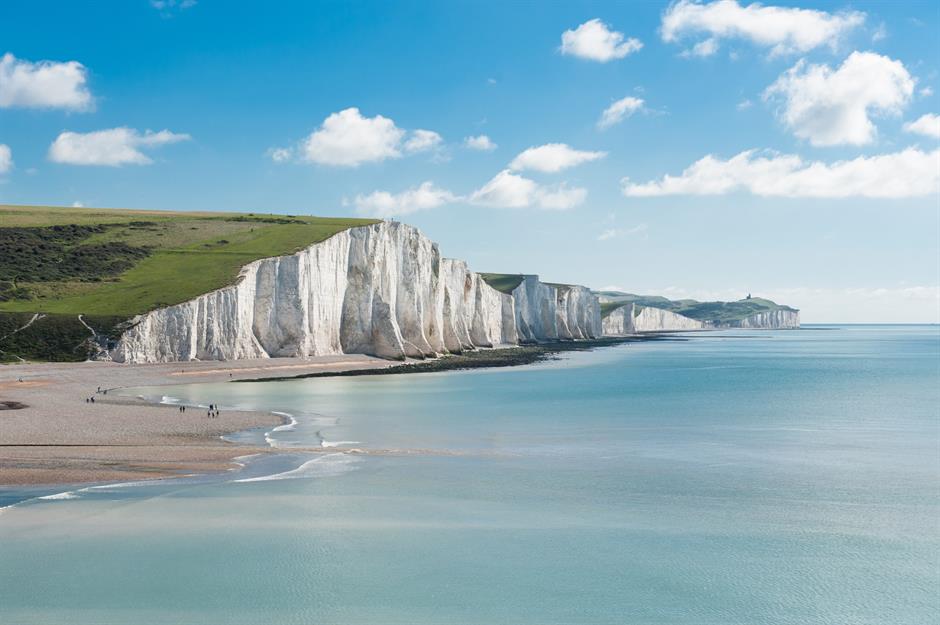 GlennV/Shutterstock
The immaculate cliffs of Dover dazzle with a white so bright that it's visible from France on a clear day – that's thanks to their soft chalk composition, built up from the skeletal remains of sea creatures and algae over millions of years. They appear all the more radiant against the sapphire sea that sparkles at their base, too. The sight has provided a warm welcome to sailors arriving on British shores for millennia.
8. Man O'War Bay, Dorset, England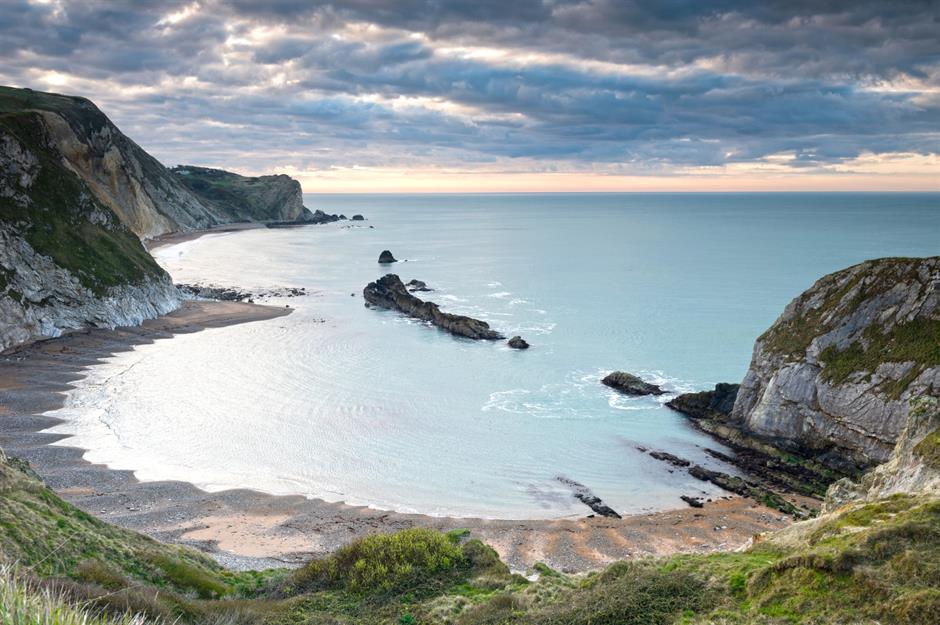 stocker1970/Shutterstock
Tucked away on the east side of Durdle Door is Man O'War beach, where the raw cliff faces partially encircling the cove give way to fine pebbles and a generous coating of sand. Coiled waves gently break against sea-weathered rocks at the bay's entrance, beyond which the blues of the English Channel and skies merge into an expanse of uninterrupted teal.
Find out where to see epic sunrises around Britain
7. Snowdonia, Wales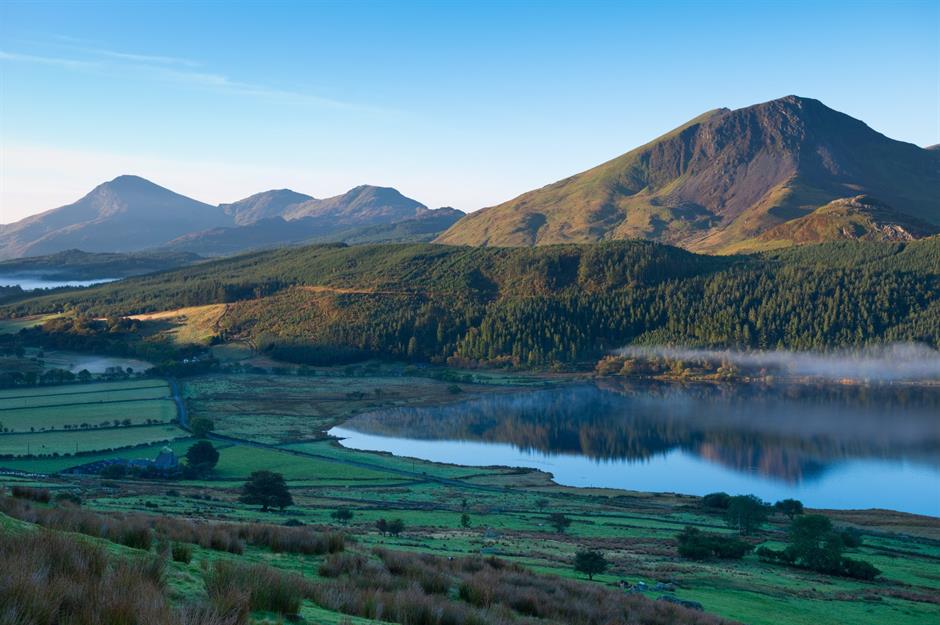 stocker1970/Shutterstock
Snowdonia National Park orbits around Mount Snowdon, which stands at a staggering 3,560 feet (1,085m), making it the largest peak in Wales. In its entirety, the park sprawls across 823 square miles (2,132sqkm), encompassing sweeping hectares of rugged grasslands, Celtic rainforests overflowing with flora and fauna, and sensational stretches of shoreline.
6. Ingleton, Yorkshire Dales, England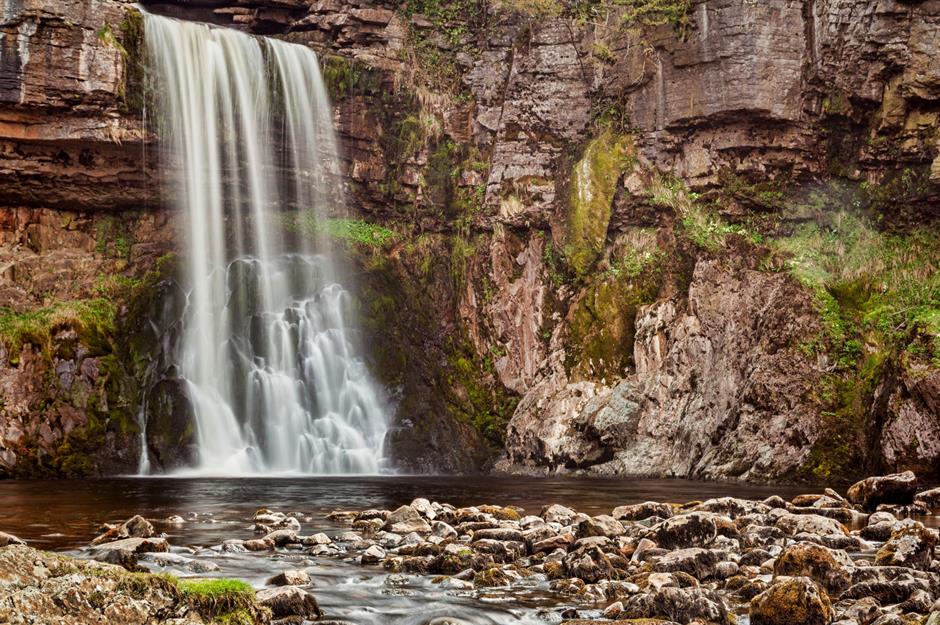 travellight/Shutterstock
Waterfalls cascading into rock-filled shallows and natural caves snuggled into limestone hills: that's what characterises the Yorkshire town of Ingleton and its surrounding beauty spots. Two thirds of Yorkshire's formidable Three Peaks Challenge takes place in this neck of the Dales, as relentless climbs and descents across bumpy terrain pose a challenge to even the most resilient hikers.
5. St Ives Bay, Cornwall, England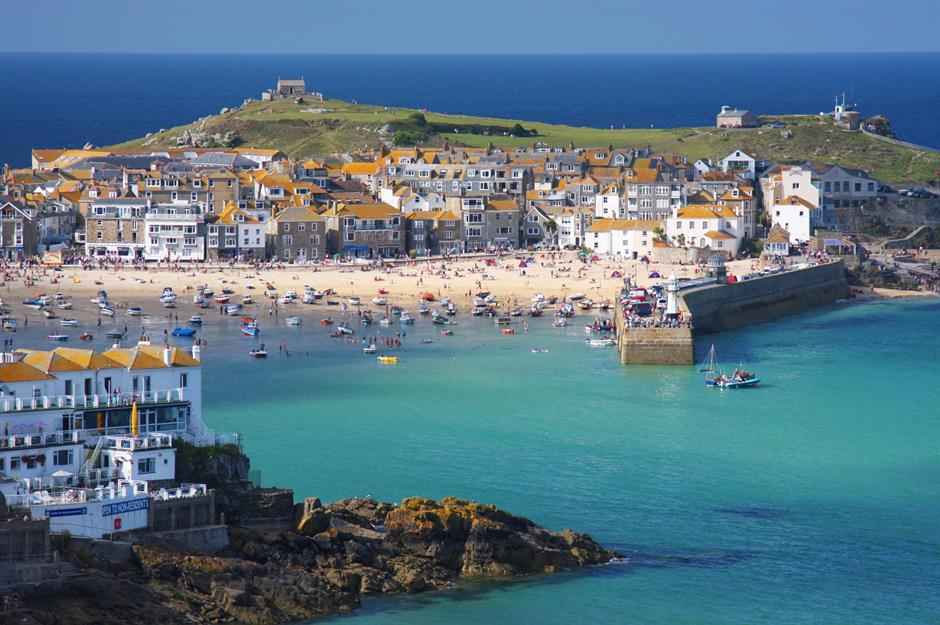 Dan Breckwoldt/Shutterstock
Spotless seaside properties topped with apricot roofs flank the shoreline of this Cornish bay. A swell of blue sea surrounds the small crescent-shaped peninsula, and a three-mile (5km) length of golden sand draws a line between the two. Adjacent to the beach is Godrevy Island, which is marked by its eponymous lighthouse, whose lights have warded ships from harm for centuries.
These are the world's most beautiful lighthouses
4. Tower of London, London, England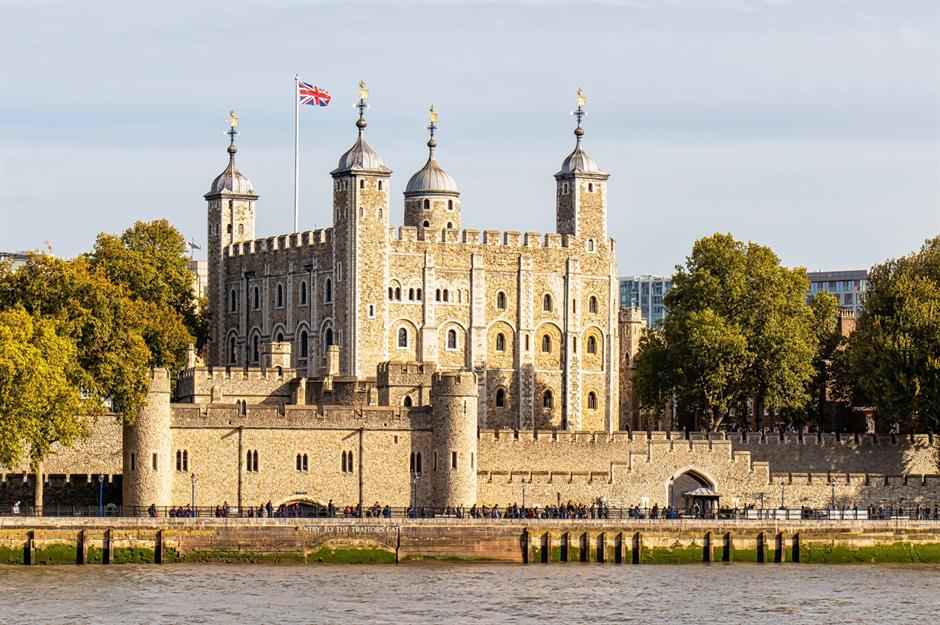 Xann Marketing/Shutterstock
A bloody history is encased in the walls of this stalwart citadel, which has served as a home to kings and convicts alike since its erection in the 1070s. Built as a display of Norman power and influence, the castle's imposing brick exterior now protects a complex of buildings containing oodles of royal treasures, from the breathtaking crown jewels to the battle-worn armours of British monarchs past.
3. The London Eye, London, England
QQ7/Shutterstock
Strung like pearls on a giant necklace, 32 capsules, each representing one of London's boroughs, slowly rotate around the London Eye's core, offering astonishing views of England's capital as they go. At 443-feet (135m) tall, the Eye is one of the world's largest Ferris wheels, and it has become an iconic feature of the London skyline since it was installed at the turn of the millennium.
2. Lake Windermere, Lake District, England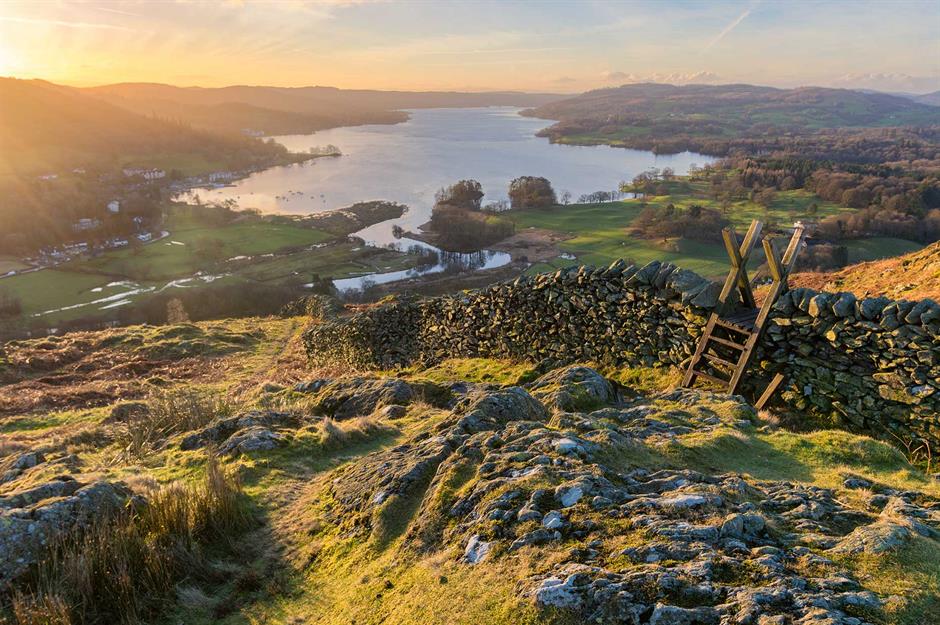 Daniel Kay/Shutterstock
The largest lake in England, Windermere extends across 10.5 miles (17km) with a breadth of one mile (1.6km), and it plummets to 220 feet (67m) at its deepest points. It's framed by some of the Lake District's most breathtaking tracts, as well as the quaint village of Windermere and the mock-Gothic turrets of Wray Castle in Ambleside.
1. Loch Ness, Highland, Scotland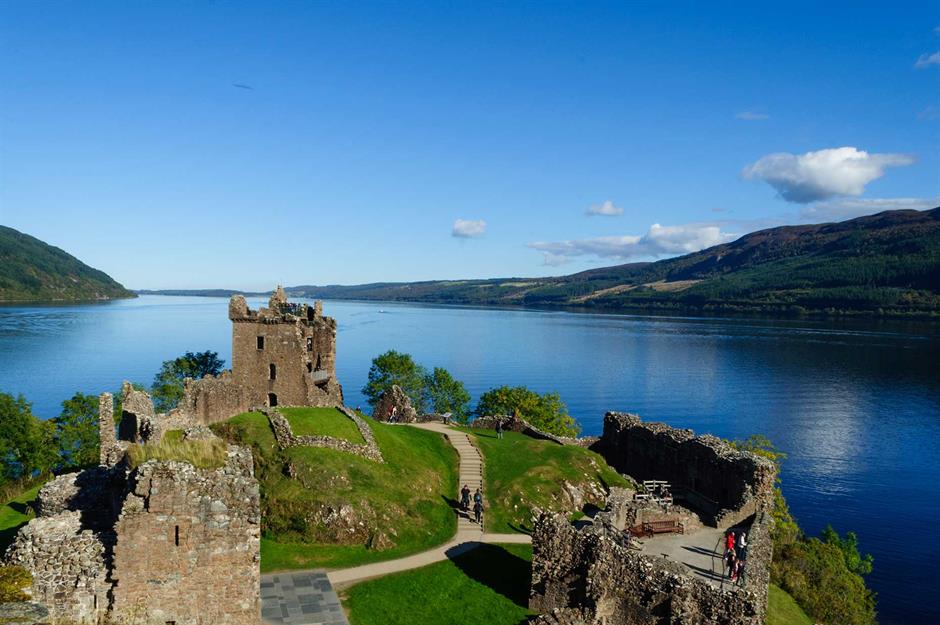 M G Photography/Shutterstock
Loch Ness is as beautiful as it is mysterious, and there are long-established whisperings of mythological creatures living in the lake's depths. Just south of Inverness, this stunning spine of the Scottish Highlands is enclosed by unspoiled forests, plunging waterfalls and ancient sites, making it the most beautiful view in the UK.